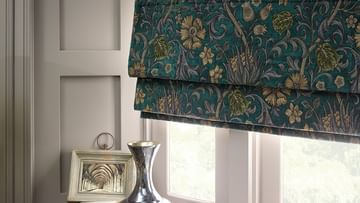 Roman Blinds are soft furnishings window blinds for your home
Made using fabric that lifts up into folds, a roman blind is a softer looking window treatment that adds colour and warmth to a room. Roman blinds offer style and practical shading to any window in your home.
Measuring guides
We have an even bigger selection in out showrooms.
Speak to our experts about bringing your ideas to life
Romans add an air of luxury and comfort to any room. Ideal for bedrooms and living rooms, these soft furnished blinds are available in a variety of fabrics that are also available as curtains and cushions.
Roman blinds not only offer excellent sun protection but also provide a thermal barrier in the cold months as well as privacy. All of our roman blinds come with a standard lining, however if you would like a bit of extra comfort and privacy we can add blackout linings which make them perfect for bedrooms - perfect for muffling the sounds of outside traffic and keeping light levels down.
They add a look of sophistication to complete the look of any style home, from contemporary to traditional. Check out our collection of fabrics as well as our available colours and patterns…all of which are expertly selected to remain on trend with modern, classic and popular styles.
Roman Blinds are very popular with many of our clients who are looking to make their living rooms and bedrooms a little cosier. Being a fabric blind, they are a practical alternative to curtains. They are traditionally cord operated; however we do offer an electrically controlled feature whereby the blinds can be operated via remote control. Our Roman blinds are fitted to the track using Velcro which makes them easy to take down and replace for cleaning purposes.
As with all our blinds, our Romans are made to measure and are perfectly fitted by our trusted installation experts. We want to make sure that you are 100% satisfied with your choice, which is why we encourage you to take a trip to your nearest showroom. Once there, one of our friendly sales assistants will be able to help you find the perfect fabric for you. Alternatively, you can call or email us with your specifications i.e. budget, colour, fabric and we will be more than happy to bring samples to your home to provide you with a free home survey.
Our most frequent questions
Our Romans are designed to be taken down and reinstalled easily. Mounted on a track with Velcro, the cords attached to the blind simply need to be unclipped. We don't recommend hand or machine washing, most dry cleaners will clean your Roman for you.
It is entirely up to you. Most people like to have the Roman fitted outside of the recess and made a little larger than the window so as to keep the light from showing around the edge of the blind.
No. Whilst they are much more effective at darkening a room that blinds fitted with standard lining, you will still get light into the room around the edge of the blind and through the stitching hole. Not much at all but still a little.
We offer either battery powered or mains powered roman blinds. The battery powered comes with a rechargeable power pack and can lift small to medium sized blinds, where as you really need the mains powered option for larger blinds due to the weight of the fabric.