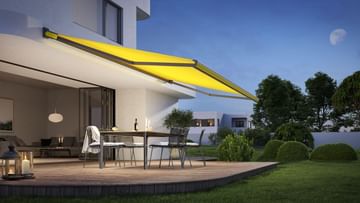 Markilux means German engineering for your garden awning
Shop online at Reynolds for our beautiful Markilux Awnings. High quality combined with superb style - made to measure garden awnings from Markilux available at Reynolds Blinds. Click the links below to view our ranges of garden shade, and to use our online estimator tool. Professionally measured and installed by our expert team.
Measuring guides
We have an even bigger selection in out showrooms.
Speak to our experts about bringing your ideas to life
Our range of sun awnings is a perfect combination of style and strength. The Reynolds range of Markilux Awnings combines brilliant German engineering and superb style to give the best external shading solutions that are available in the UK marketplace.

Originally you had to choose between style and strength. But Reynolds range of Markilux Awnings combines brilliant German engineering and superb style to give the best external shading solutions, including conservatory awnings, cassette awnings and retractable awnings.
Smart Markilux Awnings
Smart features will upgrade a simple awning and make it practical and useful. With great features such as electric operation, self-cleaning fabric choices, optional built-in lighting and infrared heaters, the Markilux awning range has everything a modern outdoor living area needs.
To make your Markilux awnings even smarter, you can include a sensor that detects sun and high winds. This will roll out your awning in the sunshine to shade your home from direct ad low lying sun. The wind sensor will also automatically put the awning away when the wind is too high to protect it from damage.
You can also customise your made to measure awning with in-built lighting to create the perfect atmosphere when the sun goes down. And finally, infrared heating will enable you to enjoy your favourite spot on the patio, no matter the weather. A radio-controlled motor makes it easy for anyone to take control of their awning, making it the perfect choice for the elderly and those with limited mobility.
The Perfect Markilux Awning For Your Home
Shades are available up to 7m wide and 4m projection, meaning the largest area can be covered with ease. And with our full survey and installation service and a 5-year warranty, now is the perfect time to add the perfect finishing touch to your garden. You'll enjoy the great outdoors for more of the year, allowing you to sit underneath and be protected from the sun in summer and showers in spring and autumn.
Our Markilux awnings can be specified, dependent upon the model, with a number of extras designed to make your awning easier to use, add to your enjoyment of your shade, and help it blend in with your garden design beautifully. Additional functionality will help you to make the most of your awning. Our range includes a wide selection of wall-mounted and free-standing pergola style awnings. A Markilux awning is the smart choice for your home.
The Elegant Beauty Of Conservatory Awnings
Adding a conservatory awning will help to create the perfect seamless transition between indoors and outdoors. You will enjoy a more functional living space, allowing you to enjoy outdoor living, no matter the weather. With a range of awning fabrics available, you can mix and match them with your conservatory blinds to create the perfect blend of sun protection and year-round protection from the rain.
Adding a patio cover will not only increase the usability of your outside space but could also boost the value of your home. If you're thinking about selling in the future, creating a stunning outdoor space could be an important factor for many homebuyers. Awnings are an attractive feature in homes, particularly quality designs like Markilux awnings.
A canopy will not only provide shading and protection from the elements but will also offer enhanced privacy. Your garden and patio will be protected from inquisitive glances, allowing you to sit outdoors all year round. If your patio or garden is overlooked by other houses, our awnings will help to protect your privacy.
Our most frequent questions
When designing your bespoke retractable awning, you'll have a choice of seven case colours and 100s of fabrics. Choose from classic striped designs, contemporary shades or bold pops of eye-catching colour. You can create your dream outdoor space to match your style and personality.
The fade-resistant fabric will truly stand the test of time. All Markilux fabrics are designed to withstand the elements, including the best and worst of the British weather. The self-cleaning fabric will not fade over time, so you can be confident the colours will be bright and beautiful as the day it was installed.
The Markilux warranty is rarely used, but if there is a fault, their after-sales service is outstanding. Each awning is supplied with its own unique barcode for identification. From this, the factory knows the size, the colour and every last nut and bolt fitted to your blind. This means that in the unlikely event that a fault does occur, we can order the exact part for your blind quickly and without hassle.
A cassette awning is a type of wall-mounted or free-standing awning model that would be the perfect addition to a garden or balcony. This refers to the enclosure that your awnings retract into, and this is the sleeve that protects the awning from the elements. You can choose from full cassette and semi cassette awnings within the Markilux awning range.
A semi cassette awning from the Markilux range offers some protection from the elements when retracted. This is the ideal choice for conservatory awnings or those in locations that have some protection from the elements. A full cassette awning will retract completely into the awning cassette and protect it from the elements. If the awning will be placed on an exposed area such as a balcony or exposed wall of your house, then a full cassette will offer some protection.
When it comes to maintenance, the most important factor to consider is keeping the fabric clean and the mechanism free from moisture and leaves. With self-cleaning fabric, nanotechnology will encourage water droplets to collect and remove any dirt build-up. This same technology will also help to prevent your fabric from fading over time.
To get the perfect fit for your property, we offer a complete design service that will ensure you choose the ideal solution for your space. We will also fit and install your awning before teaching you how to use the accessories and additional extras. Rather than risk damage to the outside of your property, we recommend expert installation to ensure full coverage of patios, decks and gardens.