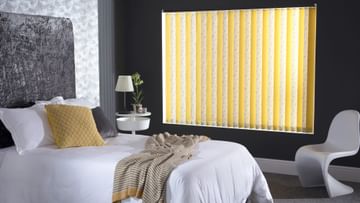 Vertical blinds are perfect for even the largest of windows.
Vertical blinds from Reynolds provide style and sophistication to any room. Perfect for both large and small windows, they offer fingertip control of even the largest of windows. And with a huge range of fabric and colours of vertical blind material, you will be spoiled for choice.
Measuring guides
We have an even bigger selection in out showrooms.
Speak to our experts about bringing your ideas to life
Vertical blinds allow you to control the amount of light in your home by drawing them back of forth across the window as needed, and then angling the louvres to give shade or privacy. Slats are available in widths of 89mm and 127mm, and come with chains, weights, and hangers in colours to compliment your chosen fabric.
Our vertical blinds come in a multitude of patterns and fabrics ensuring there is a shade for every room in the home. Our material range includes plains, jacquard patterns, natural finishes and metallics. We have sheer materials, blackout fabrics, PVC's for bathrooms and Solar Reflective Coatings (SPC) for conservatories.
Verticals can be operated two ways, by cord and chain or by control wand. A wand controlled vertical blind is our favorite, with a colour co-ordinated wand used to both draw the louvres and tilt the angle of them - convenient and perfectly child safe. The cord and chain option uses the cord to draw the louvres and the chain to tilt them. For child safety reasons we make any chain or cord loops to be 1.5m off the floor, and supply special wall pulleys to keep the cords and chains safely against the wall.
And every blind is made especially for you. Every louvre is cut, punched and sealed to the exact size you ask from a material chosen by you. You can also pick the side that the blind draws to, be it left, right or half each side, and which side you want the controls on. Add to this 5 choices of headrail colours and 4 choices of chain colours and you have a blind that is as individual as you are.
Our most frequent questions
Absolutely. We sell the weights and chains that go along the bottom separately. We also sell the headrail on their own. But our most popular service is our replacement louvre service where we make new material to be hung on your existing headrails. This gives your room a fresh new look and saves you money at the same time!
Our maximum size for a vertical blind is 6m wide x 4m high
From Reynolds, that is correct. We offer the headrails in white, silver, black, brown, champagne and anthracite.

Yes you can. Our special electrically operated headrail allows you to draw the louvres back and forth, and tilt the louvres, all via remote control.