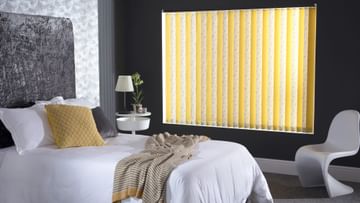 Vertical blinds are perfect for even the largest of windows.
Vertical blinds from Reynolds provide style and sophistication to any room. Perfect for both large and small windows, they offer fingertip control of even the largest of windows. And with a huge range of fabric and colours of vertical blind material, you will be spoiled for choice.
Measuring guides
We have an even bigger selection in out showrooms.
Speak to our experts about bringing your ideas to life
Why Our Made To Measure Vertical Blinds Offer A Great Value For Money
Vertical blinds allow you to control the amount of light in your home by drawing them back of forth across the window as needed and then angling the louvres to give shade or privacy. Slats are available in widths of 89mm and 127mm and come with chains, weights, and hangers in colours to compliment your chosen fabric.
Our vertical blinds come in a multitude of patterns and fabrics ensuring there is a shade for every room in the home. Our material range includes plains, jacquard patterns, natural finishes and metallics. We have sheer materials, blackout fabrics, PVC's for bathrooms and Solar Reflective Coatings (SPC) for conservatories.
Vertical blinds can be operated two ways, by cord and chain or by control wand. A wand controlled vertical blind is our favourite, with a colour coordinated wand used to both draw the louvres and tilt the angle of them - convenient and perfectly child safe. The cord and chain option uses the cord to draw the louvres and the chain to tilt them. For child safety reasons we make any chain or cord loops to be 1.5m off the floor, and supply special wall pulleys to keep the cords and chains safely against the wall.
And every vertical blind is made especially for you. Every louvre is cut, punched and sealed to the exact size you ask from a material chosen by you. You can also pick the side that the blind draws to, be it left, right or half each side, and which side you want the controls on. Add to this 5 choices of headrail colours and 4 choices of chain colours and you have a blind that is as individual as you are.
How to fit vertical blinds
There are several steps you can follow in order to fit vertical window blinds. The following are the steps:
Place the brackets by making use of a spirit level to ensure a correct fit
Mark the location where you plan to insert the screws
Screw the brackets in position by using a masonry drill, then you must clip in the headrail
Finally, secure the fabric slats in place.
Ensure that you have the proper tools for the work before you begin. The screws you'll need to attach your vertical blinds to the wall must have arrived alongside your blinds. A spirit level, masonry drill, measuring tape, as well as screwdriver are also required.
Fitting vertical blinds
Vertical blinds are a fantastic way to style up your windows, but they're also quite adaptable. You may select between a top fitting as well as a face fixing fit to obtain the right fit for your window. A top attachment will dangle out from the recess inside your lintel. Outside of the window recess, a face-fixing choice will reside on the wall over the windows. Before ordering your blinds, take the time to learn which fit you want. The measurements may change based on which fit you choose.
When installing vertical blinds, whether, for patio doors, kitchens and bathrooms, there are a few things to keep in mind.
Any obstacles that could make it difficult for your blinds to move.
Make sure the surface is suitable for hanging blinds
Provide a location for you to install your safety device. You must be prepared to start installing your blinds after you've evaluated the region for all of these potential concerns.
Our most frequent questions
Absolutely. We sell the weights and chains that go along the bottom separately. We also sell the headrail on their own. But our most popular service is our replacement louvre service where we make new material to be hung on your existing headrails. This gives your room a fresh new look and saves you money at the same time!
Our maximum size for a vertical blind is 6m wide x 4m high
From Reynolds, that is correct. We offer the headrails in white, silver, black, brown, champagne and anthracite.

Yes you can. Our special electrically operated headrail allows you to draw the louvres back and forth, and tilt the louvres, all via remote control.
Vertical blinds are made out of vertical cloth lengths that are attached to a sliding rail and controlled by a plastic chain. In the case of a fire, they serve a critical function in preventing the spread of flames via wide doors or windows. However, keep in mind that some of these blinds are made of non-fire-resistant Polymerising Vinyl Chloride (PVC). As a result, it's important to verify if the shades are made of fire-resistant materials to safeguard your home from fires.
Just like all other kinds of blinds, vertical blinds can also be cut to size. this can be done if you bought vertical blinds with a length that is too large for your windows, it can also be used if you would like to move already existing vertical blinds to another window that is of a different size. However, it's essential to know how you can cut these blinds for a precise fit.
Although the process can take a long time, we suggest you cut the slats independently to make sure they are the same. If you want to shorten your blinds, this must be done from the top slats. The folded pockets are used to keep the vertical blinds in place.
If you don't feel like wasting time and energy when your blinds are being removed, here is a simple concept of cleaning vertical blinds without having to take them down:
The following are the materials you will need:
Vertical blind cleaning tools
Buckets and water
Towels
Mild washing detergent soap
Essential oil (optional);
A vacuum cleaner
It depends on your needs. Blackout curtains offer a wider range of design options, more privacy, improved thermal insulation, and noise reduction. While blackout blinds occupy less space, they're far more affordable, quicker to install, easier to keep, and typically come with a remote control in the hot and wet regions. An opaque cloth is contained within a cassette is also found in the blackout blinds.
However, no blinds are available with a total opacity of 100 per cent. As a result, if you choose this room-darkening option, you must pay close attention to the design characteristics.
Almost every style of blackout blind can has some level of automation. For instance, based on where you purchase them, they may come with a remote that controls the rolling component that you can use to draw them. Taking this into account, the installation expenses of this automation are minimal. Automation also makes light control very easy.
Because of the light and simplicity of cleaning, blinds are very beneficial in kitchens. While they do accumulate dust rapidly, a simple vacuum is quicker to perform than putting curtains in the washing machine. When looking for a fabric that is simpler to handle, opt for one that is wipe-clean. Allergy sufferers may have a problem here. Blinds may also be precisely adjusted to the window, providing excellent energy efficiency without the risk of cutting off heating sources like radiators. Some blinds also provide a barrier against the cold or heat even when they are open, allowing you to save energy throughout the day.
Curtains, on the other hand, also come in a variety of designs, lining choices, and materials to modify the room's overall appearance. Light, transparent curtains are appropriate for creating an airy mood in a Scandinavian environment, whilst heavier, rich materials such as velvet are more suited for creating a warm ambience. This entirely depends on the type of cloth you choose, although curtains are often inexpensive. Cotton curtains may cost as low as £10, whereas heavier curtains might cost thousands of pounds. Thicker curtains, which take up more space than blinds, might make a room appear smaller, but they typically give it a more luxurious look.
Curtain, are also thicker due to the amount of cloth required to attain the necessary levels of functionality. As a result, the financial costs of automating them are much higher. Automatic blackout curtains are also a bespoke feature due to the increased length and breadth limits.