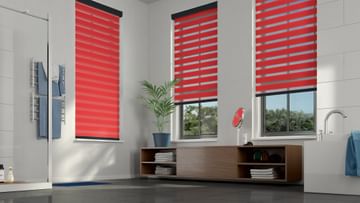 Day and Night blinds - an eye-catching and truly unique alternative to venetians or rollers.
Day and Night blinds are a new shading innovation. Styled similar to roller blinds, the Day and Night blinds collection offer adjust able shade for comfort, privacy, vision and above all style!
Measuring guides
We have an even bigger selection in out showrooms.
Speak to our experts about bringing your ideas to life
An eye-catching and truly unique alternative to our roller blinds; you'll enjoy the best of both worlds.
Offering full light control as well as the smooth and easy operation of a roller blind, Day Night blinds are quickly becoming a favourite among our customers. They are the perfect window treatment for the modern home. If you like Venetian blinds but want something a little more discreet or if you need a roller but want to allow more natural light in, then a Day Night blind may be just what you need.
Made from two layers of horizontally striped opaque and sheer fabric, the blind is cord operated like a roller. When operated the stripes glide each other and when the opaque stripe are in line they offer complete privacy. When the translucent stripes are in line they offer vision with a great degree of privacy. And when the blind is fully lifted it gives clear vision through the window. It's an amazing addition to any home that will create a cosy and contemporary look.
The Day and Night blind can be adjusted to rest in many different positions and has a beautiful effect with the light allowance in the room. It balances the need for privacy and the ideal natural light allowance – giving you full control over what you need out of a blind. This means there is no need to choose between natural light and privacy again, you can enjoy the best of both worlds.
Often referred to as Vision Blinds, Zebra Blinds or Mirage Blinds, this collection is available in plain, wood effect, metallic and raw silk materials and colour. So whether you are looking for a sleek, modern effect or something more natural and homely; we can cater to any taste. Our Day Night blinds are idea for any room in the home, but they are particularly useful in living areas such as the lounge, dining room or kitchen. They are also a very attractive accompaniment to curtains for that more luxurious feel. The blinds comes with a discreet and complimentary fascia cassette which conceals the roll of fabric when the blind is fully open.
View our full range of blinds
Our most frequent questions
Yes there is a blackout material available, but due to the design of the blind this offers room darkening only and light will still come into the room around the edge of the blind. For a complete blackout effect, pair with blackout curtains.
The case is approximately 90mm wide and 70mm deep. It has a fabric insert in the front to match the blind material, and is available in 5 powder coated colours. If you would like to see the whole collection for yourself, we recommend a visit to one of our showrooms.
Absolutely! We can offer mains powered or battery powered motorisation for our all of our blinds. Switching to a contemporary battery powered control will also make your home safe, as you won't have dangling cords which could harm children or pets.
We have to limit the drop on this style of blinds. This is because there is in effect twice as much fabric on the roller as you would have in a conventional roller blind, and only so much will fit in the space on the top case. We have different thickness of fabric so ask your advisor which is best for your window drop.
We would recommend handing your blinds outside the recess to help prevent the small amount of light leakage that is common when blinds are placed inside the recess. This is a common issue with all blinds, including roller blinds. With the Day Night blind, you can avoid the need to style it with an additional curtain to block out remaining light by simply placing it outside the recess. This will also help to save heat and will be easier to install. If you need practical support to measure your recess for fitting your new blinds, we can help.
This innovative range offers complete control over the level of sunlight and privacy in your home. With a roller blind, you'll have to choose between open or closed. Roller blinds offer complete privacy or no privacy, with nothing in-between. With this collection, you can take control of the panels and block out the sun fully, partially or not at all. If you're thinking about new blinds for your home, you should consider the benefits offered by Day Night blinds.