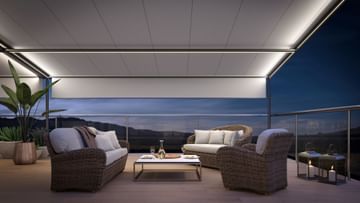 Markilux Pergola - the large area shading product.
A sunshade that is capable of covering larger areas with ease, the Markilux Pergola has discrete side tracking and support legs that allow you to cover up to 30sq.m in one unit. Or add Markilux Pergolas together and cover up to 90sq.m!
Measuring guides
We have an even bigger selection in out showrooms.
Speak to our experts about bringing your ideas to life
The Pergola from Reynolds and Markilux is ideal for the larger patios and terraces due to the different method of fabric support it uses. The fabric travels along side tracking meaning that there are no folding arms on show, and allows the fabric to project up to 6m away from the building.
The track is secured at the building end by the fabric cassette, which hides the fabric and mechanism meaning that everything is neat, tidy and safe when not in use. The other end of the track is supported by discrete but very strong legs which are secured into the floor.
Other than the larger area that an be shaded, the main advantage of this system is the additional strength that the set-up provides. Where as every awning that we sell is tested and approved up to wind class 2, the Pergola is approved to the superior class 3 meaning that it can be left out in less inclement weather.
All of the tracks, cassettes, brackets etc are powder coated to provide a stylish but hard wearing finish, and the colour can be chose from a selection of 6 shades. The fabric choice is huge, with stripes and plains to pick from and including materials treated with our patented SNC self cleaning stain resistant coating.
The Pergola is available as a stand alone unit of up to 5m wide and 6m projection, but up to 3 units can be joined together to give up to 15m width and potentially an incredible 90sq.m's of shade! The operation of the shade is by remote control, and options such as a wind and/or sun sensor and infra red heater can be selected and added to the remote option.