Markilux Pergola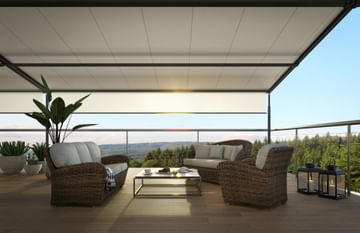 The large area shade that offers unrivalled shading
The Markilux Pergola from Reynolds Blinds is a fantastic shading system that has many benefits compared with an awning.
The Pergola consists of a fabric cassette on the wall, two discrete tracks that the fabric travels along when opening, and two slim poles that support these tracks. The system glides in and out along these tracks, meaning that there are no folding arms above your head - just beautiful Markilux fabric.
There are two main benefits of this. The track system allows the Pergola to extend much further that a conventional awning - unto 6m from the house. And the legs at the front offer so much stability that the Pergola is rated a wind class higher than any awning - making it ideal for windy exposed properties. The legs also ugly reduce the strain put back into the building structure so it ideal for block built or wood clad installations.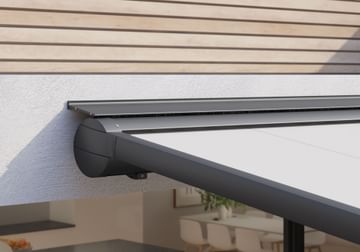 The neat fabric cassette can house unto 6m projection of fabric, and can be powder coated in 6 standard colours.
Due to the stability offered by the legs, the Pergola is available up to 6m wide in one unit. We can connect units together with our super neat joining tracks meaning you can have up to 18m width, and up to 6m projection - just think of the entertaining area this would give you!
The special belt drive technology employed in the Pergola is combined with a patented fabric tension system that keeps the fabric taught at all times. This means that, if installed at the correct pitch, your Pergola can be used in the rain too. And if the pitch is difficult to achieve then the Pergola can be fitted with adjustable legs that drop to allow water to flow off the cover.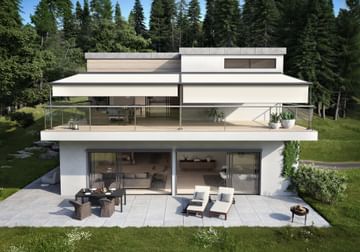 Linked Pergolas give huge entertaining areas to patio and terraces.
Your Pergola can be made in a huge range for Markilux fabrics, and can be customised to suit your needs. Led lighting can be added to the tracks that light from the sides - all switched on, off or dimmed by remote control. We can also side blinds to the Pergola that can act as wind breaks or privacy panels - again all operated by remote control.
All Markilux awnings come with a 5 year warranty when installed by a Markilux approved installer. Reynolds are approved and have been exclusively fitting Markilux products for over 10 years.
To learn more about the Markilux Pergola awning, click here to download our brochure. We are sure you will be impressed. Once you are just give us a call, or click below and we will arrange for one of our advisers to visit your home to see which Markilux awning will suit your home, your needs and your budget.
The Markilux Pergola from Reynolds Blinds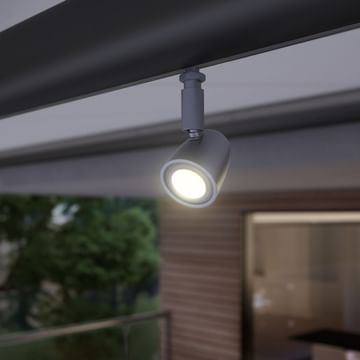 Learn more about the Markilux Pergola
The super sized patio shade
We have an even bigger selection in out showrooms.
Speak to our experts about bringing your ideas to life