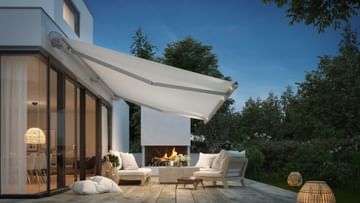 The Markilux 6000 garden awning - the award winner.
The Markilux 6000, when extended, can span an amazing 7m wide and project up to 4m which makes it perfect for even the largest patio area. And when the Markilux 6000 is put away, everything folds, rolls and returns neatly into the case keeping it safe from even the worst of the British weather.
Measuring guides
We have an even bigger selection in out showrooms.
Speak to our experts about bringing your ideas to life
The 6000 is electrically operated as standard, with a remote control to open and close the shade. Easily added is a wind sensor which monitors the awning constantly and will retract the blind is the wind gets to a level where it high cause damage. Why not add a sun sensor that will automatically take the awning out when the sun comes out and put it away when the sun disappears, so protecting and shading your rooms when you are away?
With any Markilux awning, the case and mechanism is so strong that they will outlast the fabric cover. At Reynolds we are very happy to offer a recovering service, so if it has got stained, it has got damaged or you are just bored of the colour, just give us a call and we can fit a new cover for a fraction of the price of replacing the awning.
At Reynolds we teamed with Markilux as we were hugely impressed by the design, engineering and strength of the products. We have supplied and installed awning for over 15 years and the Markilux products are by far the best we have used to date. The engineering is clearly German with things such as stainless steel fixings being used throughout the product, but the styling is beautiful to behold too. And being deigned and manufactured in a country that is on a similar latitude line to Britain, you know that they have been made to stand up to similar weather that we get here unlike the cheap alternative that are available online.

All Markilux awning are covered with 5 year warranty and are fitted by our own experts. We are fully equipped with special Markilux hoists designed to safely lift the heaviest product into place. We will fully test and commission your blind, including adjusting the pitch which is the slope of the awning. But if you then find that the awning needs adjusting, give us a call as your first adjustment is complimentary.