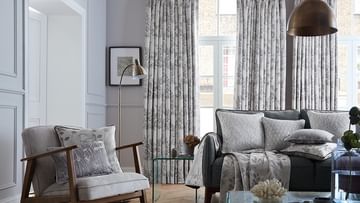 Pinch Pleat Curtains
Pinch pleat is the ultimate in decorative finishes for curtains, where individual pleats in Single, Double or Triple pinhces are sewn into the top. This finish looks excellent when hung from a curtain pole.
Measuring guides
We have an even bigger selection in out showrooms.
Speak to our experts about bringing your ideas to life
Our pinch pleat header is a treatment to the top of a curtain. We pinch the fabric into either 1, 2 or 3 'pinches' to give a lovely gather and finish to any curtain.
Pinch pleat will work with curtain tracks, but it best used with a curtain pole as a pole gives plenty of room for the pinches to fold nicely when the curtains are drawn back. Pinch pleat can be combined easily with any material, and can be used with standard or blackout linings.
All of our curtains are made to measure, penny weighted (old fashioned but still the best) and folded carefully during transportation to help them hang as well as possible as quickly as possible.
And as with any of our other products, we offer a full home measuring and installation service, and a fully range of poles and tracks including bay windows and electrically operated curtain tracks.