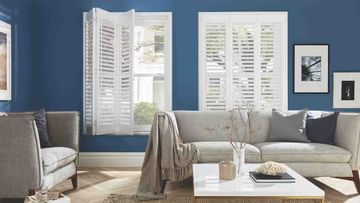 Made in the UK with a super fast delivery time.
Our Polyvinyl Shutter range is stylish, tough and extremely well price. Add to that the the Polyvinyl Shutter is made in the UK for a super quick delivery time and you know you are buying a winner.
Measuring guides
We have an even bigger selection in out showrooms.
Speak to our experts about bringing your ideas to life
Available in the most popular 2 shades of white, our Polyvinyl Shutter gives you all of the style and looks of a wood shutter, but with none of the drawbacks. They are great for anywhere likely to get wet, such as bathrooms or kitchens. The finish is exceptionally hard - pop into store for a demonstration - so they are also idea for high traffic areas.
And one of the best features - these are made here in the UK so delivery times are much shorter than conventional shutters.