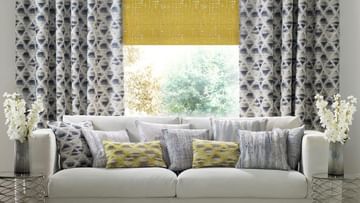 Curtains
Shop online for made to measure curtains online with Reynolds. We have been famous for making and fitting stylish, high-quality, made to measure curtains for over 20 years. Use the links below to view our online range of curtains, and to use our online estimator tool. Professionally measured, made and installed by our expert team.
Measuring guides
We have an even bigger selection in out showrooms.
Speak to our experts about bringing your ideas to life
Pencil Pleat Curtains
Pencil pleat header gathers the top of the curtains to spread the fullness of the curtain across the whole of the window.
View our Pencil Pleat Curtains
Pinch Pleat Curtains
Pinch pleat is the ultimate in decorative finishes for curtains, where individual pleats in Single, Double or Triple pleats are sewn into the top.

View our Pinch Pleat Curtains
Eyelet Curtains
Eyelet curtains feature large eyelets at the top to thread on to the curtain pole, this results in deep pleats that look great in solid colour blocking.

View our Eyelet Curtains
Tracks and Poles
Complete the look with poles and tracks for your curtains. Choose from a wide range of custom poles and tracks to suit your choice of curtains.

View our Tracks & Poles
Made to measure curtains for your home
Looking for new curtains for your home? Find inspiration for your home makeover and discover the perfect style for every room. We stock a wide range of curtains in sumptuous textures and patterns to create a fresh new look for your home. Bespoke curtains are more affordable than you might think and will allow you to achieve a perfect fit. We can help you every step of the way, from measuring your windows to fitting your custom curtains. We also also pair them with the perfect style of net curtains so you can enjoy privacy and light control.
For more room inspiration, why not visit our showroom to see our extensive collection? This will allow you to see all of the quality fabrics and accessories available on our website in person. This is the best way to bring our site to life and choose the ideal curtains and blinds for any room.
Perfect fit blackout curtains
Blackout curtains are ideal for rooms where you need complete light control. Keep your bedroom cool in summer by blocking out the sun with blackout curtains. And in the winter, you'll enjoy added warmth from the heavy fabrics. When the curtains are open, you'll enjoy a bright space, but you can shut out the light at night time to enjoy a good night's sleep. To achieve a high level of light control, we recommend pairing blackout curtains with blackout blinds. Blinds and curtains together will provide excellent light control.
Our most frequent questions
Ready made curtains are only available in specific sizes, but with custom made curtains, you can be confident you'll get the perfect fit for any room. A common problem with ready made curtains is that they aren't aren't wide enough to hang correctly. Curtains need additional width in order to hang correctly. We can give you all the information you need for measuring your windows. We also offer a fitting service so you can be confident your new curtains will hang beautifully. If you're curious about how to measure for new curtains, check out our measuring guides.
We stock curtains in a wide range of colours, including stunning neutrals and bold and bright shades. We also have fabrics in a range of patterns that incorporate multiple colours so you can mix and match to your existing decor. When choosing the colours for your curtains, you should think about the current style in your home and if you would like to continue the theme or enjoy a refresh. The right colours can transform your home and create dynamic space for the whole family to enjoy.