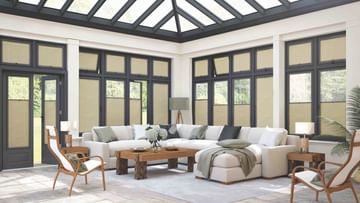 Pleated blinds are fan folded fabric that give shades so neat that you hardly see them when they are installed.
Pleated blinds are neat, versatile and virtually unseen when fully opened, yet can be drawn to give effective shading and privacy. And with a huge choice of fabrics, there is a pleated blind to suit every window in your home.
Measuring guides
We have an even bigger selection in out showrooms.
Speak to our experts about bringing your ideas to life
Pleated blinds are very possibly the most adaptable blinds we have. They can be made to fit any square, rectangular or trianglular window, including doors and glass conservatory roofs. The majority of our material comes with an SPC (Solar Protective Coating) and some materials are available as blackout.
Stylish, compact and easy to clean, these simple cord operated shades are perfect for creating a warm, daylight glow in your conservatory. Combined with our Smartfit frame system, pleated blinds are the perfect combination of form and function for conservatory windows.
Due to their design, pleated blinds use a minimal amount of space when fully raised and don't have a bulky appearance. This makes them very popular for smaller windows. What makes single pleated blinds ideal for conservatories is the very attractive glow they cast when the sun hits them.
Our pleated blinds come in a range of colours and fabric styles including our a wood or reed effect for those who want to bring a little nature in their home. They also include a wide range of fabrics that have a performance backing to keep the temperature down in the summer and retain the heat during the winter months..
Our most frequent questions
Some of the pleated fabrics in our range come with a performance backing which is known as SPC (Solar Protective Coating). This performance backing acts as an insulate, keeping the heat out in the summer and retaining heat in the winter.
Yes, the majority of our materials are made from polyester so will withstand slight moisture, however if it was going to be wet all of the time maybe consider a water proof roller blind or faux wood?
Yes, our Smartfit system does not use screws to fit the blinds, instead they use a special bracket that slides between the glass and the rubber glazing bead. This is very neat and tidy, plus means that you can remove the blinds and leave no damage to the window frame.
Many blinds can be shaped. Most commonly pleated blinds are shaped to fit conservatory roofs. We regularly fit products to gable end windows, with the two most popular treatments being sloping vertical blinds or shaped plantation shutters.