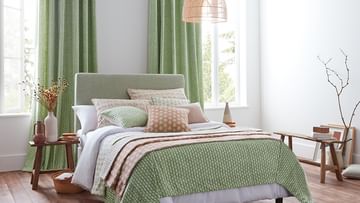 Pencil Pleat Curtains
Our pencil pleat curtains header is a treatment to the top of a curtain. We sew a special tape onto the back of the curtain that is then gathered to fit the size of your window perfectly.Pencil pleat work great with both tracks and poles to give a neat, modern finish to any window. It can be combined easily with any material, and can be used with standard or blackout linings.
Measuring guides
We have an even bigger selection in out showrooms.
Speak to our experts about bringing your ideas to life
Achieve An Elegant And Neat Finish In Your Home
Pencil pleat curtains lend a touch of elegance and sophistication to any room in any home. The carefully gathered fabric is pulled together to create delicate pleats at the top of the curtain that allows the fabric to drape perfectly.
Pencil pleat curtains are a popular alternative to eyelet curtains and are commonly seen in traditional and contemporary homes. They look excellent when designed in warm neutral shades for a monochromatic room interior. We also love to see bold and bright colours or dramatic patterns to create a strong visual impact.
Pencil pleat curtains work great with both tracks and poles to give a neat, modern finish to any window. It can be combined easily with any material, and can be used with standard or blackout linings. When designing your bespoke pencil pleat curtains, you'll have a choice of a wide range of fabrics and colours to suit all rooms in your home.
All of our curtains are made to measure, penny weighted (old fashioned but still the best) and folded carefully during transportation to help them hang as well as possible as quickly as possible. All you'll need to complete the look is your choice of curtain poles.
We can also create tie backs and cushions in the same fabrics to create a cohesive look in any room. If you're not sure which colours would suit your home, don't worry, as we offer a comprehensive design service to enable you to get the perfect pencil pleat curtains for your home.
And as with any of our other products, we offer a full home measuring and installation service, and a fully range of poles and tracks including bay windows and electrically operated curtain tracks. If you decide to measure your pencil pleat style curtains yourself, you'll need to know the length and width of the window.
Our most frequent questions
Yes, you can choose blackout fabrics in a wide range of colours and patterns for your blackout curtains. Achieve the style you love with pencil pleat blackout curtains that are simply perfect for the bedroom. Blocking out the light will ensure you get a good night's sleep and aren't disturbed by the morning sun or street lights. Blackout curtains are also thicker, which will help to keep your home warmer in winter and create a cosy atmosphere.
If you've seen a fabric in a colour or pattern than you love, you can also choose different header styles. We also offer pinch pleat curtains and eyelet curtains to match a wide range of interior design styles. If you're struggling to make a final decision, get in touch with our team and we'll help you find the perfect style for your room.
Hanging the curtains couldn't be easier. The tape will have three rows of pockets to attach the hooks to, allowing complete flexibility over how you hang your curtains. Using the middle or lower pockets will allow you to hide the track. If you're using a curtain pole with rings, use the upper pocket to attach your hooks. Our curtains buying guide will include all of the information you need to measure and hang your curtains with confidence. If you need a little extra help measuring for your pencil pleat curtains, our expert fitting team can help.