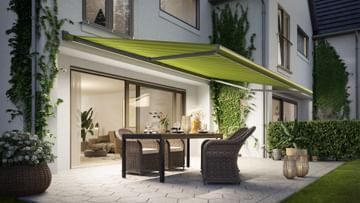 The Markilux MX-3 offers shading and style never been seen before.
The Markilux MX-3 is the latest awning in the MX range. As an awning it is hard to beat, offered up to 6m wide with projections of up to 3.5m. But the real selling point of the MX-3 is the stylish options it offers.
Measuring guides
We have an even bigger selection in out showrooms.
Speak to our experts about bringing your ideas to life
The MX-3 is part of the family of awnings from Markilux. Like all Markilux products, the German engineering is of the highest quality and they are manufactured in Markilux's own factory. Since Markilux are responsible for designing the fabric and the awning mechanism, you can be sure that everything has been engineered to be as efficient and
The MX-3 is a full cassette awning which means all of the mechanism and fabric is concealed inside a stylish, cubist case when not in use. This means that the awning can be left outside all year round without fear of damage or dirtying of the fabric.
The style points just keep adding up with the MX-3. The case is available in 6 paint colours, and uniquely you can add matching or contrasting style trims to the case to make your awning a true individual. From coloured inserts to match the fabric choice through to crackle finishes, the huge choices available in the MX styling range ensure you would be hard pushed to ever see another awning the same.
Our most frequent questions
The Markilux MX 3 is an innovative designer awning available in a wide range of fabrics, plus eight additional accentuated colours for the awning cassette for a harmonious appearance. The defining features of the Markilux MX 3 awning collection is the high tech fibres, the wide range of panel colours and the base awning units. The Markilux brand also offers technical superiority over competitors, which is why we have chosen to partner with the company time and time again.
The Markilux MX 3 collection is available in a wide range of colours and styles. Choose from block colours, stripes and clean lines in colours to suit all homes.
A contemporary full cassette awning with all round styling panel will transform any outdoor space,