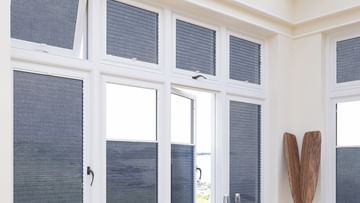 Perfect Fit blinds - The perfect fit for PVC window and doors.
The Perfect Fit blind system has been designed to compliment the modern uPVC window and door design used in almost every modern home. The Perfect Fit frame and brackets click into the rubber glass gasket, meaning that there are no holes to be drilled in your windows or doors.
Measuring guides
We have an even bigger selection in out showrooms.
Speak to our experts about bringing your ideas to life
This frame holds pleated blinds, roller blinds, Hive blinds or venetian blinds, making this a highly versatile system that can offer shade and privacy to any window in the home. With many of the products fitted into the frame being held under tension, the blinds are idea for doors and opening windows. This means that they don't blow around or flap in the wind like so many other products, making them perfect for conservatories and kitchens.
The frame is available in a range of colours to compliment either the fabric choice or your window frame colour. And we carry a range of brackets especially made to match most window styles available in the UK.