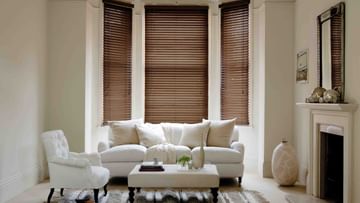 A blind that is a design classic and available in real wood or fauxwood.
A wooden blind from Reynolds is like a fine piece of furniture that is made especially for your window. Wooden blinds will add style to any décor scheme, and still offer you control over privacy and light.
Measuring guides
We have an even bigger selection in out showrooms.
Speak to our experts about bringing your ideas to life
We offer our wooden blinds in either real wood or Fauxwood – a plastic material that mimics wood. We have stained wood finish or painted finish, and the fauxwood comes in either plain or textured finish. Our colour range is extensive, including a number of on trend greys. And all blinds are made to measure so they fit your window perfectly.
Wood Venetians bring a soft, elemental feel to any room and are a cost effective alternative to plantation shutters. In addition to a variety of wood types, finishes and treatments, you have the option of adding a decorative tape. It is a nice design feature to complete the look of your blind, and you can choose a complimentary colour or contrasting one. Wood venetians also come with a matching wood pelmet that we use to hide the mechanism and complete the look.
Our most frequent questions
Its entirely up to you, one thing to bear in mind with wooden venetian blinds is they do get quite heavy the bigger you go, if you wanted you could always split it up into more than one.

We do not recommend wood venetians for a bathroom. They are not fully water resistant and with prolonged exposure to heat and moisture can become warped and damaged. However, we do have a range of faux wood Venetians which are coated with a layer of PVC which makes them fully water resistant and ideal for a moist environment.
Unfortunately due to child safety regulations we are not be allowed to install any product which has looped operating cords with a installation height lower than 1500 mm. However there are child safe options available, If you would like more information, please don't hesitate to contact your local branch.
Sadly it is true that badly fitted or badly designed blinds can be a hazard to children. At Reynolds we have partnered up with Rospa and added safety devices to our blinds for a number of years now, and a new rule came into place regarding safety of blinds in 2014 which we fully comply with. There are also a number of safe by design options as it motorised or wand controlled blinds,