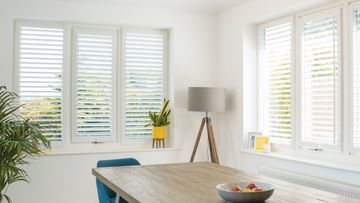 NEW Perfect Fit Shutters are a more cost effective way to enjoy shutters in your home.
Our NEW Perfect Fit Shutters are the ideal solution for customers wanting that traditional look of plantation shutters, but designed to work seamlessly with modern UPVC windows. These incredibly cost-effective shutters attach right onto your uPVC windows, creating a sleek and slimline appearance.
Measuring guides
We have an even bigger selection in out showrooms.
Speak to our experts about bringing your ideas to life
Unlike our standard shutters, the new Perfect Fit Shutters don't require any drilling, or any outer framework, and clip into your existing uPVC window frames. This makes them incredibly easy to clean, as they are quickly detachable from the window, providing a clutter-free window ledge.
These easy-to-install shutters are also waterproof and come with a 10-year parts guarantee. Made right here in the UK, our Perfect Fit Shutters can be ready in as little as three weeks. You will have full control over the light and privacy, all you have to do is tilt the shutter louvres at the desired angle – open, closed, or anywhere in between.
The Perfect Fit Shutters can also be installed on wider windows by fitting multiple shutter panels together. This will allow even more control over the light and amount of privacy, as you can simply adjust the shutters you want, depending on the time of day, and the privacy needed.
To view our extensive range of products, visit us in-store or book your free no-obligation consultation.
Our most frequent questions
Unlike more conventional shutters, our Perfect Fit Shutters have a lead time of roughly 14 days, subject to demand. They are made right here in the UK, which guarantees a significantly faster turnaround than with more traditional wooden shutters. Once your order is placed, it will be made, packed, and dispatched
Our Perfect Fit Shutters don't require any outer framework, which allows more light in from the outside and gives you an improved view from the inside. These shutters effortlessly clip in directly to your existing uPVC window frames, making it easy to remove when cleaning or decorating, no drilling required!
Currently we offer this product in White to match standard white UPVC windows
We offer 63mm louvres only. Any wider will not allow the louvres to tilt as they will foul the glass.