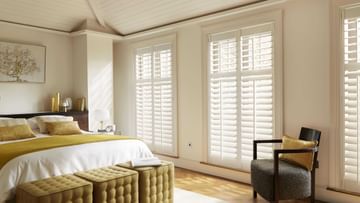 MDF Plantation shutters are tough and great value.
Our MDF shutter is perfect for almost any window, and being an MDF shutter it is tough, smooth and great value for money.
Measuring guides
We have an even bigger selection in out showrooms.
Speak to our experts about bringing your ideas to life
Our contemporary choice of shutter. Not only is incredibly durable - being made from polymer coated MDF making them strong with a wipe clean surface - but also very affordable.
These are great in high traffic areas as they are manufactured from dense wood fibre. To keep the MDF shutter super competitive on price they are available in 9 colours, but they most popular paint finishes with all of our frame options.
During the process of manufacturing, the uprights of the shutter (called the stiles) have specially machined wooden core laminated into them. By mixing the direction of the grain, the stile becomes stronger than the original length of timber, making the shutter more resistant to warping,
Some of our competitors use dowels to join the key joints on their shutters together, but our experience has shown us that these are often not strong enough.
Instead of this Reynolds shutters are manufactured using mortise and tenon joints giving you a stronger shutter and years of trouble free use.