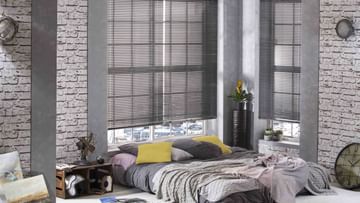 Very few window treatments offer what a venetian blind can.
Venetian blinds are stylish and modern, and offering superb control over light and vision in a room, a venetian blinds come in an array of colours.
Measuring guides
We have an even bigger selection in out showrooms.
Speak to our experts about bringing your ideas to life
Venetian blinds are a firm favourite among our customers. The option to control the allowance of light through the blind and the discreet design makes this popular for conservatories, kitchens and bathrooms.
Contrary to popular belief, venetian blinds originated in the Far East and not in Italy. Despite dating back almost 3 centuries, the unique way these blinds work has hardly changed although the mechanisms are hugely improved. The venetian is possibly the most famous blind style because of its unique effect with light. It is often shown used in many art works by artists such as Fredrick Carl Frieseke, Edmund Charles Tarbell and Henri Matisse.
We recommend this blind for a south-facing or high sun glare window to give you total control on the amount of light in your home. Our venetians come in a variety of widths aluminium slats ranging from 15mm through to 50mm. Our venetian blinds are ideal for kitchens and bathrooms where you can use our mass colour range to compliment utensils and accessories. These blinds are both cord and wand operated - the cord to adjust the height of the blind and the wand to tilt the slats horizontally up to 180 degrees.
We offer more than merely a choice of colours. They come with a choice of perforated, metallic, matt and shine finishes as well as the option to have alternating colours; such as varying shades of pink for a candy stripe effect or a unique and fun rainbow pattern!
Our most frequent questions
Unfortunately due to child safety regulations we are not be allowed to install any product which has looped operating cords with a installation height lower than 1500 mm. However there are child safe options available, If you would like more information, please don't hesitate to contact your local branch.
Its entirely up to you, one thing to bear in mind with wooden venetian blinds is they do get quite heavy the bigger you go, if you wanted you could always split it up into more than one.

We recommend 100% polyester or wipeable fabric for a kitchen or bathroom. Organic fibers such as cotton are not suited to a damp environment because it causes the fabric to shrink and eventually rot. Therefore, Romans and Curtains would not be appropriate for a bathroom or kitchen where there is a lot of heat and condensation. The most popular choices for bathrooms and kitchens are roller blinds, verticals and venetians.
There is a method of making the aluminium strips that make a venetian blind cheaper by making them thinner. This means less aluminium is used so saving money, but it also make the slatting much more susceptible to damage. We are really careful to use the thicker slatting. There is about 20% more aluminium in our blinds that some of our competitors - not enough for you to see by eye but you will notice in years to come as the blind ages better.