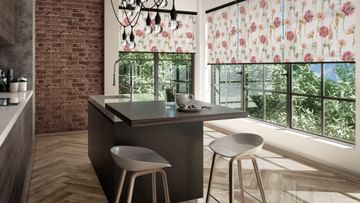 Roller blinds offer shade, style and privacy to any room.
Thanks to their style and ease of use, the roller blind is one of our most on trend products. Easy to use and with fabric options that can block light, filter light, protect from UV rays and be waterproof, there is a roller blind for every room in your home.
Measuring guides
We have an even bigger selection in out showrooms.
Speak to our experts about bringing your ideas to life
Our roller blinds come with a choice of two methods of operation – our special and very strong side chain winder that come with our special child-friendly breakaway connector. Or spring return for smaller windows. A hugely popular option though is our electrically operated roller blinds, where you can raise and lower the blind at a touch of a button.
From a blackout roller blind for a bedroom to a thin woven fabric blind for a day room; we have a roller blind perfect for the functionality and décor of every room. Rollers are also a very popular option for conservatories and are available in our Smart-fit frame. Although roller blinds are most widely used in bathrooms and kitchens due to how easy they are to clean, we do have other fabric options that would be more appropriate for bedrooms or living rooms. These fabrics give a plush, opulent feel to the room and are available in a variety of thicknesses and translucency; from blackout to sheer.
If you would like to make your roller blind truly unique, we also offer a multitude of accessories and embellishments that you can add to your blind.
Fascias - These slim and discrete top treatments hide the mechanism and brackets of the blind, given a really high-end look at a very affordable price.
Exposed aluminium bottom bars – Available in a range of colours, these bottom bars add additional weight to make the blind roll even better and can be chosen to match or contrast the fabric choice.
Double Treatments – This option is getting more and more popular, where blackout blind and a light woven sun-net blind are combined to offer the ultimate in light control
What type of blinds is best for bedrooms?
Bedroom blinds are essential for ensuring you get quality and healthy sleep. Therefore. They have an impact on everyone in your home. Finding the right blinds for the bedroom is not hard as there is a wide range of options available.
That is all dependent on how much light you would like to enter the space. If you're an individual that even the tiniest glimpse of light will cause you to have a restless night's sleep. If you want to completely darken the space, blinds that block virtually all light are available. If you would like your bedroom to be as black as possible, blackout roller blinds are the way to go. It's a unique roller blind with a cassette to enclose the roller as well as side channels on both sides to block out as much light as possible.
Roman blinds, woven shade blinds, as well as wooden Venetian blinds are also among the most preferred blinds for the bedroom. In the bedroom, though, almost any style of blind will work.
When it comes to window blinds, roller blinds are the classic design that everyone thinks of. That isn't simply due to the fact that they have a simple design. Roller blinds are a high-value and practical option for every room in the house since they can be made from a variety of materials and are simple to design. You can also choose the pattern and colour you want. They are typically rolled down using pull cords or even a spring-loaded mechanism and may be smoothly installed in window recesses. This style is still one of the most common options when it comes to bedroom window dressing.
Are roller blinds fire resistant?
Not all roller blinds are fire-resistant. However, there are some patterns or designs of roller blinds that are resistant to fire. Such roller blinds have a unique design that includes an additional protection layer. These blinds are suitable for kitchens, lounges, and any other fire risk areas in your home. In addition to the fire-resistant characteristic, these shades will also help provide not only privacy but also light control. View our flame retardant blinds.
What are the most popular window blinds?
Faux wood blinds are manufactured to seem like genuine wood blinds and are one of the most famous window coverings. Faux wood blinds are much less costly than real wood blinds since they use synthetic slats, making them one of the most popular window blinds.
Faux wood blinds have the same lovely appearance as real wood blinds. However, because they are constructed of synthetic materials, fake wood blinds are less expensive than wood blinds. They may be utilized in regions and rooms with increased humidity, such as bathrooms because they aren't constructed of genuine wood. Wooden blinds have been a popular option for any purpose due to their durability and affordability.
Our most frequent questions
The short answer is 4m wide x 4m high. We make blinds using different sizes tubes to suit different sized blinds, and our largest 76mm tube will make an electrically operated blind at 4m x 4m.
Yes, we have a large range of blackout blinds and they need not be black, we even have white blackouts! Roller blinds are the most common type of blackout blind that we sell, but we also have blackout vertical blinds, blackout pleated and can add a blackout lining to roman blinds.
Absolutely not The blackout feature refers to the fabric, which will not let light travel through it. But you will still get light around the edges of the blind entering the room.
We certainly have blinds that can be wired into the mains, but our battery operated blinds are very popular, need no wiring and just need a charge every 6 months.
Since bathroom blinds can easily get wet and have to deal with a whole lot of moisture, a very good choice is PVC and vinyl blinds. Therefore, you must choose PVC roller blinds or PVC vertical blinds for your bathroom. Faux wood blinds are also a good choice as they are highly resistant to water and will not be damaged by water. However, faux blinds, will not be able to actually take constant water dunking.
To make sure you do not fray your roller blinds when cutting, start by purchasing razor-sharp scissors or knives. Make sure to always use a great pair of scissors or fresh blades to cut the roller blinds.
To eliminate the extra fabric, carefully cut along the line you've created. If you're using a knife, maintain the cut as smooth as possible by using a straight edge.