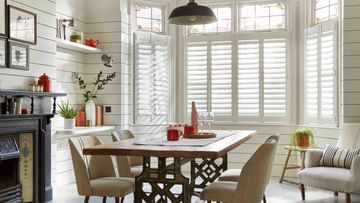 Hardwood Plantation Shutters are the ultimate in on trend products for you home.
Made to measure Hardwood plantation shutters are so popular at the moment, and it is not hard to see why. Every Hardwood shutter is expertly made to measure to fit your window perfectly, giving shade and style to any home.
Measuring guides
We have an even bigger selection in out showrooms.
Speak to our experts about bringing your ideas to life
Our Hardwood range of shutters have panels and louvres made from our premium and durable hardwood.
These shutters work well in any type of setting, be it traditional, contemporary or country living. The hardwood used has a stunning tight grain and gives a lovely smooth finish. These work excellently in any normal room setting.
Being made of real wood, this allow you to choose from a huge range of 45 paints and stained finishes. We also offer our custom colour service in the where you can choose any colour you want and we will paint your shutter that colour for you.
We can also teams hardwood panels and louvres with an MDF frame. this keeps quality high but costs lower making this a great value shutter that is available in a paint finish from our expanded range of 24 colours.
During the process of manufacturing, the uprights of the shutter (called the stiles) have specially machined wooden core laminated into them. By mixing the direction of the grain, the stile becomes stronger than the original length of timber, making the shutter more resistant to warping,
Some of our competitors use dowels to join the key joints on their shutters together, but our experience has shown us that these are often not strong enough.
Instead of this Reynolds shutters are manufactured using mortise and tenon joints giving you a stronger shutter and years of trouble free use.
Our most frequent questions
Shutters are normally around 7-9 weeks. This is variable, dependent upon many factors such as demand at the factory, shipping times etc. Once your order is placed, it is typically made in around 1 week. It is then packed, loaded on to a ship and dispatched to us. Once it is on the ship, we can track it and give you a more accurate arrival time.
We offer a variety of bay window treatments that are sure to fit your needs. Our shutters can be made from a variety of materials, including hardwood, vinyl, and composite. We also offer a variety of colours and finishes to choose from, so you can find the perfect look for your home. When choosing between shutters and blinds, you should consider the following.
The look you want to achieve:
Bay windows with shutters provide a classic, timeless look, while blinds can be more modern or traditional, depending on the style.
How much light control you need: Shutters give you complete control over the amount of light that comes in, while blinds allow some light to filter through.
Privacy concerns: Shutters offer complete privacy, while blinds may allow some light to pass through.
Maintenance: Shutters are easy to care for and don't require much maintenance. Blinds may require more cleaning and dusting.
If you're still unsure which option is right for you, our team would be happy to help you decide. Contact us today to learn more about shutters from Reynolds Blinds.
Hardwood shutters offer a classic look that never goes out of style. They provide privacy and light control and can be customised to fit any window. Hardwood shutters are also durable and easy to care for, making them a great choice for any home. Since hardwood is more prone to warping, this type of material isn't suitable for moist environments such as the bathroom or kitchen.