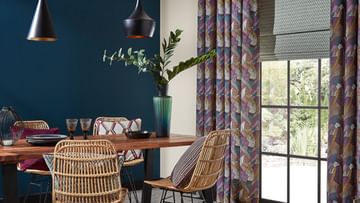 Tracks and Poles
Our stunning variety of tracks and poles offer that finishing touch to your curtains. Match your style and colour scheme by choosing from a range of finishes and materials, including various wood tones, metals, glass, and plastic options.
Measuring guides
We have an even bigger selection in out showrooms.
Speak to our experts about bringing your ideas to life
Complement Your Curtains With Our Tracks And Poles
Using high-quality materials, our tracks and poles can complement your space and unique style, framing your windows and curtains seamlessly.
Choose from a variety of styles and materials, including antique brass, sophisticated glass finials, chic metals and rustic wood. For those looking to have the curtains be the sole statement on their space, our made-to-measure tracks will provide that seamless look to your windows. Visit us in-store to see our range of curtain tracks in a variety of colours and materials.