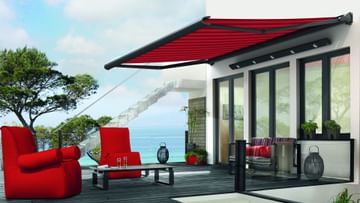 Markilux 990. Incredibly strong. Incredibly good value for money.
The Markilux 990 compact cassette awning may be a little smaller than it's bigger brothers, but don't be fooled. It is made to the same exacting standards, and a Markilux 990 can still span up to 5m width and project up to 3m.
Measuring guides
We have an even bigger selection in out showrooms.
Speak to our experts about bringing your ideas to life
The special cassette design wraps both the fabric and the awning components inside when not in use, giving a neat place for them to be kept safe when not in use. The case, components, arms and brackets are powder coated in your choice of 6 colours, which can be chosen to match the fabric, your patio furniture or just because you like it.
The fabric is selected from a huge range of plain and patterned choices, with many treated with our patented SNC self cleaning coating that make the material stain resistant and can be washed by simply sprinkling the cover with a garden hose.
As with every Markilux awning, the 990 is electrically operated as standard, and can have automated operated added via a sun and/or wind sensor. These will automatically put your awning out when the sun shines to shade your home and project your furniture and flooring. A wind sensor measures the effect of the wind on your awning and automatically puts it away if the wind is likely to damage it – a real piece of mind addition.