The Markilx 990 Awning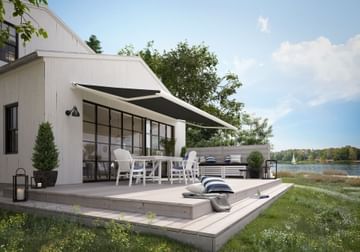 The small Markilux awning, but don't let the size fool you!
You will be surprised how much German technology is packed into the Markilux 990 awning. At only 125mm high, the case is very neat. Yet this will house the fabric and the mechanism when the awning is not in use, keeping your fabric hidden away from the elements.

We have fitted so many of these awnings over the years and they have all performed extremely well. The awning can span up to 5m wide and project up to 3m, making it perfect to shade smaller to medium sized patios.

The case is available in 6 standard powder coat finishes that can be chosen to compliment you fabric choice, your home design, your patio furniture or simply because you love the colour. We also have our custom powder coat service where you can have the case painted any colour you chose.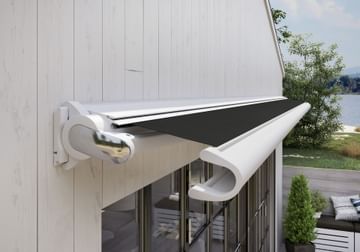 Markilux 990 with optional wall sealing plate.
The 990 is electrically operated as standard although manual operation is an option. Electrically operated models can add the option of our Safety Pack 1 or Safety Pack 2. Safety Pack 1 adds a wind sensor to the awning that automatically retracts the awning if the wind gets to a level that is likely to damage the blind. Safety Pack 2 includes the wind sensor but adds a manual override feature that allows you to operate the awning in the event of a power failure.

The arm technology that is used in the 990 is twin steel chain links. You can upgrade to our Bionic Tendon technology that replaces the steel chains with a Kevlar belt. This technology has been tested to 50,000 operations - that is opening and closing the awning once a day for 68 years!

All Markilux awnings come with a 5 year warranty when installed by a Markilux approved installer. Reynolds are approved and have been exclusively fitting Markilux products for over 10 years.

To learn more about the Markilux 990 awning, click here to download our brochure. We are sure you'll be impressed. Once you are, give us a call or click below and we will arrange for one of our advisers to visit your home to see which Markilux awning will suit your home, your needs and your budget.

The Markilux 990 Awning from Reynolds Blinds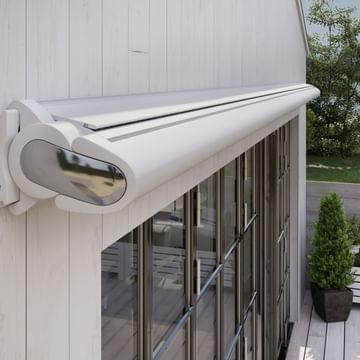 Explore the 990 Awning
The compact awning from Reynolds and Markilux
We have an even bigger selection in out showrooms.
Speak to our experts about bringing your ideas to life