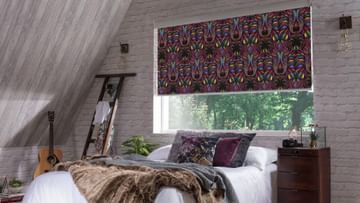 Keeping it stylish whilst getting a good nights sleep.
Getting a good night's sleep is essential to getting a good start to the day.
Measuring guides
We have an even bigger selection in out showrooms.
Speak to our experts about bringing your ideas to life
Blackout blinds - sounds like something from the war! But whether you live in the city and suffer from light pollution, or in the country but get woken up by the sun, some form of blockout product can help keep the room dark and make it easier to sleep.
The first thing to remember is that a blackout product will not exclude all light. Blackout refers to the fabric itself being lightproof. But light will still be able to enter the room around the side of the blinds or curtains. For this reason we often now refer to these products as blockout.
Blockout/blackout roller blinds.
Roller blinds are very often fitted to bedrooms to reduce light entering the room. They are neat and easy to operate making them great at the job. Blackout in name doesn't mean black in colour – we have just about every colour under the sun to choose from. We also have a great range of patterned blockout blinds, from children's prints to subtle designs – there is a blackout roller blind just waiting to be fitted to your bedroom.
It is important to remember though that light will still get in around the sides of the blind. Although this is very little, with rest of the room being so dark it is noticeable. We do offer a fully cassetted roller blind system to reduce these gaps further, but again light can never be completely excluded from a room with blinds. Prices of these systems can be gain via our office.
Blockout/blackout curtains and roman blinds.
All of our curtains and roman blinds can by fitted with our blackout lining. This lightproof fabric is available in white or cream, and is fitted expertly by our seamstresses.
Because this lining can be fitted to almost any soft cloth, the range of materials is huge and the choice is epic.
Again, just like Blackout Roller Blinds, total light exclusion cannot be guaranteed as it can still get in around the sides of the products. This can be reduced:
Roman blinds can be fitted outside of the window reveal, with a good overlap all round, will reduce but not eliminate light ingress.
Curtains again can be overlapped either side of the window, and be floor length to again hugely reduce but not eliminate light.
One further thing to remember about roman blind and curtains. They are sewn together and light – believe it or not – can get in through the stitching holes!