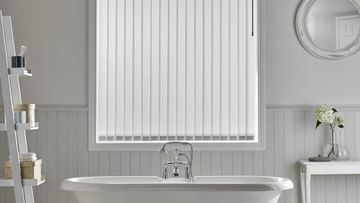 With water around you need a product to suit the conditions
Bathrooms can vary from huge rooms to tiny closets. But the one thing they do need is privacy from the outside world, which is why blinds and shutters are a necessary fit to the windows.
Measuring guides
We have an even bigger selection in out showrooms.
Speak to our experts about bringing your ideas to life
But bathroom blinds and bathroom shutters lead a different life to those window treatments fitted to windows in other rooms in the home. Even if water does not directly spray onto the blind, the higher humidity levels can cause lesser products to fail. So we have selected products for you that we know will perform well, and also look awesome.
Bathroom Roller Blinds.
Roller blinds are without doubt a favorite for bathrooms. They are stylish and easy to operate, and there are a few features that make our roller blinds ideal for bathrooms. These include using an aluminum tube – many of our competitors use either cardboard or steel tubes that aren't great in a wet environment. We would also recommend requesting a plastic control chain on the sidewinder unit – this is available in 3 different colours and will last longer than a metal chain.
We have a range of materials that are either water-resistant or waterproof which are ideal for a bathroom roller blind. Ideally once used, it is good practice to leave the blind down to dry before rolling it up – this helps prevent mildew and makes the blind last much longer.
Bathroom Vertical Blind.
Vertical blinds are great for bathrooms as they hang in the air so dry beautify when wet. Like our roller blinds, there are a number of features that make a Reynolds vertical blind idea for a bathroom.
Our top rails are made of aluminum so highly resistant to corrosion. We also have the option of the louvre weight to be sealed into the fabric so the damp cannot get to them.
Again, we have a range of fabrics that are water resistant or water proof – making them ideal for the bathroom.
Bathroom Venetian Blinds.
Venetian blinds are a popular choice for a bathroom. We have products in both aluminum and fauxwood that are ideal for the life of a bathroom blind.
Aluminum venetian blinds work well as the slatting is resistant to corrosion. They are also great for giving some privacy but allowing light in by adjusting the slatting.
Our Fauxwood venetian blinds look like real wood blinds. We love our real wood blinds, but the combination of heat and moisture that is present in a bathroom can lead to warping. Our Fauxwood are make of plastic (although you would never know), and don't suffer from the same issues. They are also super tough and easy to clean, making them a great choice.