The Markilux MX-3 Awning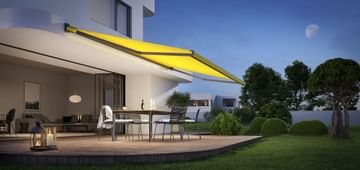 The MX-3 awning from Markilux is a super stylish sun shading system that is excellent for almost any garden.
This awnings main unique feature is the coloured inserts that can be fitted to the case. This allows you to customize the MX-3 with an insert that matches your fabric choice, your garden furniture, your house design ..... or one that you just love because it looks super!
But the awning is not style over substance. Thanks to the high quality materials and design, the MX-3 can span up to 6m in width, and project up to 3.5m. The arms are fitted with our Bionic Tenon technology which are tested for over 50,000 operations - this is in and out once a day for 68 years!
The is optional lighting can add wither an LED strip or LED spotlights to the underneath of the case. These are all operated by remote control and include a dimmer function, meaning you can set the light to set the mood in your garden. You can also add our Safety Pack 1 to your MX-3 awning, which is a wind sensor that automatically retracts electrically operated models when the wind gets to a level that is likely to damage your awning.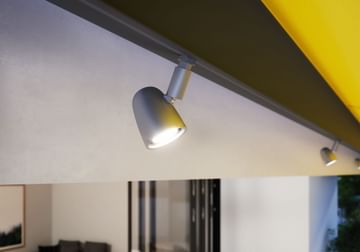 Optional Lighting
Our fabric choice is over 250, consisting of an eclectic mix of patterns and plains. The MX-3 case and arms can be powder coated in 6 standard and popular colours, with the option of custom powder coating to any colour you require. And of course, don't forget the huge range of inserts that you can choose from too!
The MX-3 comes with a 5 year warranty as standard from Markilux, on the condition that it is fitted by a Markilux specialist. Reynolds are an accredited and approved Markilux specialist who have been exclusively supply Markilux products for over 10 years. We offer a full site survey where we can advise what awning would fit and suit your home, your required usage and your budget, and then we would return with your awning and fit it correctly and safely for you.
Click here to download our comprehensive guide to the MX-3 awning - we are sure you will love it. And when you fall in love simply click below and we will be right back to you to arrange for one of our expert to call you to arrange a home visit for you.
The Markilux MX-3 Awning from Reynolds Blinds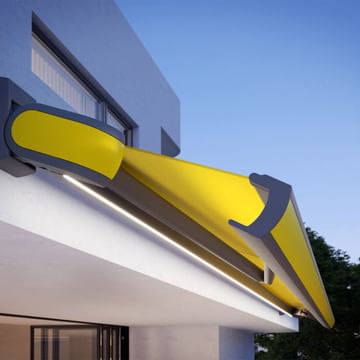 Explore the MX-3 Awning
The stylish awning from Reynolds and Markilux
We have an even bigger selection in out showrooms.
Speak to our experts about bringing your ideas to life