What size curtains do I need?
Curtains are a great way to add texture, colour, and a bit of personality to your space. Before ordering your curtains, it's crucial that you figure out what size of curtains you will need. This might seem daunting to some, so here are a few tips when getting measurements and trying to plan out your space.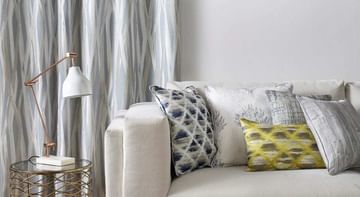 There are several options for window coverings: curtains, blinds, shutters, and so on. But now, we're discussing curtains, which are one of the most popular choices at Reynold Blinds. However, picking the improper curtain length may completely ruin your room so let us give you some advice on how to know what size curtains you need to make your rooms stand out.
How to Measure for Curtains
Determine Mounting Technique
It's vital to determine whether to mount curtain measures outside or within the window frame before you start measurement. Each type of installation gives a totally distinct look.
Outside Mount Curtains
This method for hanging curtains is the usual mounting style. The rod is fastened to the wall outside of the window frame when the curtains are fixed outside. Outside mounting curtains can be a bigger window, providing complete coverage to prevent direct sunlight, and provide a beautiful appearance.
Inside Mount Curtains
Inside-mount curtains are also another mounting method that will offer a unique aesthetic, albeit they are less popular. The term "inside mount" pertains to a curtain rod that is fastened within the window frame for a more classic look. Although inside-mount curtains do not entirely keep out light, they do give more than enough privacy and have a modern, minimalist appearance.
Determine Rod Length
It's advisable to pick the length of your curtain rod prior to actually measuring the breadth of your window. Normally, curtain rods are stretched 3 to 6 inches beyond the window frame. Since rods can be put within, above, or even below trim mounts, the length of your rod is affected by where you install it. With regard to the diameter, you must choose a curtain rod that is an inch thicker or more. This helps to prevent bowing in the middle as it strengthens the curtain.
Inside Trim Mount
Hang curtains within the window frame for simplified, customized window coverings. For a tight fit, choose curtain rods with protected end covers and an extendable design. With this modern design, window coverings must be roughly the same width as the inside of the window, or somewhat broader if you want a gathered effect.
Below Trim Mount
If your window frame has a lovely casing at the top, try placing the curtain rod slightly just below the trim. This is a fantastic method to show off your moulding's artistry while also giving privacy and elegance to your windows. For a complete effect, choose a curtain rod that extends 3–5 inches beyond the width of the windows on both sides.
Above Trim Mount
The best way to place your curtains is by placing the curtain rod 6 to 12 inches above the window frame. However, there are certain factors that affect this, for example, the amount of space that is available between the ceiling and your window top. The overall design you are going for also affects this.
You can also place your curtains 20 inches above your window frame if you are looking for an elongated appearance. Your window will appear larger if you have your rod placed high and wide.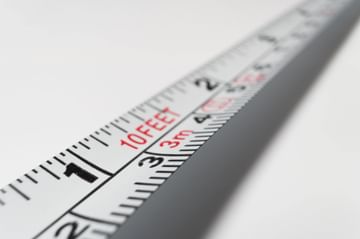 Choose Your Curtain Length
The next thing to do is to choose the length of your curtains. Before you do this, you have to consider the interior design of your home and what you are looking to achieve. This factor can help you choose the ideal lengths of the curtains you need. Curtains can be hung in three different ways based on what you are looking to achieve.
Above Sill
In this way, your curtains are hung above your window sill. For example, you can place the ready made curtains about 1cm above your window sill.
Below Sill
In this method, the curtains end about 15cm below the window sill.
Floor Length
Floor length curtains are dependent on the kind of length you are looking to achieve. However, there are also standard length curtains that only end about 1cm above the floor. Other curtains extend their length to the floor.
Measure for Width
Curtain widths must generally be around 1 1/2 to 3 times your window's ultimate width size. The completeness of the style you wish to attain will eventually be defined. Fuller curtains give your windows a richer sense, while shorter curtains give them a more fitted aspect.
Take into account that your window panels normally are labelled as individual products, so make sure you have your curtains in one pair or purchase it pair. If the curtains come individually, double the specified width of the curtain panel. You may compare complete sizes with tablecloths or blanket
Measure for Length
When trying to find the dimensions of the curtains to use, you start by measuring the width of your window by the length from the rod to the bottom panel.
Valances are also measured in the same way (width by length). These do not take up much space, only about one quarter of the window top.
As previously said, the length of the curtain chosen is influenced by any factors like the desired look as well as the hanging method. In order to have a visual perspective of what the length of your curtain should be so the measurements.
Get a tape that is made to measure your widths or lengths and place it at the top of your window frame, you can also place this inside the corner of our window frame and then measure for the length you want. If you want your curtains high, measure from the top of the window frame.
Think About Interior Decoration
Curtains are an excellent method to increase the size of any design. Due to the large variety of colours and designs, they are available, you may choose curtains that are striking. If your space has mainly neutral hues, add boldly shaded drapes such as brilliant crimson or rich emeralds to blend the objects.
The curtains create the room - but only when properly selected – as any decorator would tell you. In the case of window coverings, it is a question of colour, fabric, length, lines and custom created against off-the-shelf treatments. It is easy to be influenced by so many possibilities, There are some tips on how to limit the choices to your house and how to pick the appropriate curtains.
The first step in learning how to pick curtains is determining what your space demands. Homeowners frequently pick curtains, drapes, blinds, and shades without understanding the distinctions. As a result, these window coverings may reduce the quantity of natural light that enters your space.
Curtains are lightweight cloth panels that hang on curtain rods. They're primarily utilized for seclusion, therefore they're ideal for living rooms. Drapes, on the other hand, are constructed of heavier fabrics that block out light, making them perfect for bedrooms.
In the view of the curtains and thus the room, the fabric plays a crucial function. Your selections are many from pure split to lightweight cotton, medium weight to velvet. The two variables to consider while selecting your textile are:
The amount of natural light you'd want to let in.
The room's atmosphere and decor. Heavier textiles, for example, are better suited to more conventional interiors, whilst transparent fabrics are more suited to more minimalistic spaces.
Ideally, the colour of your curtains should synchronize with the other furniture. You can either select or contrast drapes that are in tune with the design. Choose sheets in a colour that complements your surfaces' shading for a pleasant effect. If you want to concentrate on the curtains, choose the shade that contrasts with the furnishings and the decor.
Choose models when the space has solid colours. The whole of the decor must be looked at here. When all the other soft furnishings in the room is solid coloured, it may be a common decision to go with patterned curtains.
Likewise, the opposite is also true. Prints provide visual weight to any piece, so keep that in mind. As a result, one option to use patterned curtains is to match them with solid-coloured furniture and add printed cushions, area rugs, and other accessories.
According to your interior design, there are several curtains you may choose from including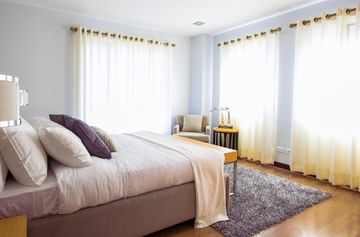 What Are The Crucial Points When Measuring The Curtains?
There are two crucial measures to effectively hang your curtains - width or gather and length or drop. In order to achieve this, you first need the appropriate work equipment.
In order to make sure your curtains fit well, you must accurately measure your rail or pole. Please check again if you have any doubts. You assume full responsibility for the finished dimensions of your curtains by providing such specs.
In-house curtains provide both functional and cosmetic advantages. Practical advantages are sunlight management, heat and cold isolation, night privacy, and exterior dust prevention.
Curtains have a significant influence on the room's overall appearance. It may shape a room's overall concept and ambience, which is why choosing the right curtain for your room is crucial.
What size curtain pole do I need for eyelet curtains?
There are Many eyelet curtain sizes you may choose from. For example, standard ready-made curtains can use an eyelet that is 40mm, the recommended curtain pole for this eyelet curtain is 28mm. For 1 34mm curtain pole, you will have to use a 50mm eyelet.
You can also use a pole or track for eyelet curtains, although they seem to glide better and are more common on metal curtain tracks or poles. Curtain rods designed particularly for eyelet curtains can be purchased, however, rings are not included.
We have an even bigger selection in out showrooms.
Speak to our experts about bringing your ideas to life