Markilux 6000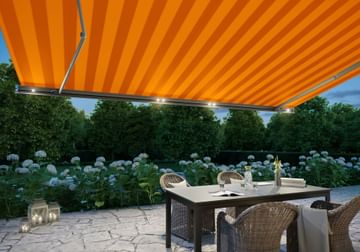 Our flagship awning that is packed with features.
We know we shouldn't have favourites, but the Markilux 6000 is actually the awning we prefer most from the range.
It can span unto a huge 7m in width, and project up to 4m. It is a fully cassetted awning, which means that the fabric, arms and mechanism al hides away neatly in a stylish case when not in use. The case, that is available in 6 standard powder coat finishes or custom pain if required, not only looks stylish but also keep the fabric safe and clean over the winter.
Electrically operated as standard, opening and closing you Markilux 6000 is as easy - just press the button. You can also opt for our Safety Pack 1, which adds a special wind sensor to your awning that will retract it automatically in high winds. Or add Safety Pack 2 that add the wind sensor and a special manual override function that allows you to retract the awning in the case of power loss.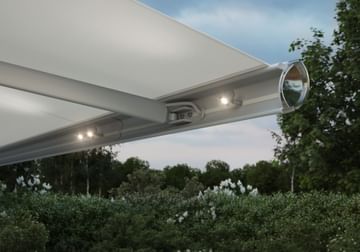 Spotlights can be fitted in the front profile allowing you to light your patio in a way wall lights cannot.
The option list for a 6000 is huge. Included in this is awning lighting, that adds LED spotlights into the front profile of the awning. Easily switched from your awning handset (including a dimmer function), these flood your patio with light from the front of the awning. This affect of lighting being aimed towards the house rather than away cannot be replicated by wall lights on your house.
We can also add a motorised ShadePlus to your 6000. This powered blind sits at the front of your awning and allows you to adjust the shade your patio needs dependent upon the time of the day and the time of the year. So shade the patio in the morning but leave the ShadePlus up for a great view. As as the sun sets you can lower the ShadePlus to keep your meeting area free from glare as day turns to night. And all of this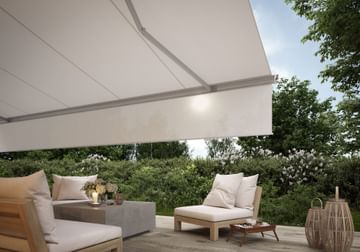 A motorised ShadePlus is available in matching or contrasting materials
All Markilux awnings come with a 5 year warranty when installed by a Markilux approved installer. Reynolds are approved and have been exclusively fitting Markilux products for over 10 years.
To learn more about the Markilux 6000 awning, click here to download our brochure - we are sure you'll be impressed. Once you are, give us a call or click below and we will arrange for one of our advisers to visit your home to see which Markilux awning will suit your home, your needs and your budget.
The Markilux 6000 from Reynolds Blinds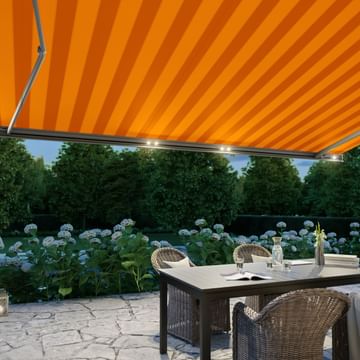 Explore the Markilux 6000 awning
The feature packed flagship of the Markilux range
We have an even bigger selection in out showrooms.
Speak to our experts about bringing your ideas to life