What a difference a 'bay' makes – shutters are the perfect window treatment for bay windows of all shapes and sizes.
Bay windows are a great feature of a home, often giving additional floorspace and huge amounts of light into a room. Whilst these are of course great benefits, these lovely windows do present some issues when adding window coverings.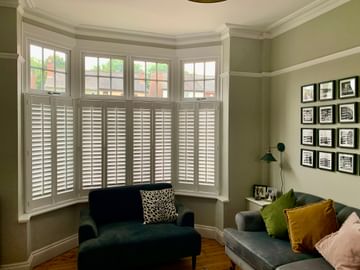 Curtains that are drawn back to the sides can block light from the side windows, and in the open position offer no privacy. And whilst some blind styles can give be adjusted for varying degrees of privacy – partially open for daytime or fully closed at night – the angles of a bay window could result in issues with gaps.
This is where shutters really offer a near perfect blend of form and function. Form – they look stunning, and the especially made to measure frame follows your bay meaning no gaps. Function – the panels or 'doors' can be opened to allow access to open or clean the windows, and the louvres can be adjusted to give obscured views during the day and total privacy at night.
Below are some examples of bay windows we have fitted – these are our own work and not studio shots – along with descriptions of how they have been fitted and why the style was chosen.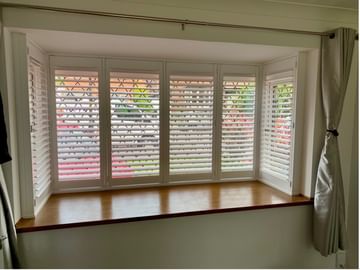 This is what we call a square or 90 degree bay. This is because the windows meet at a 90 degree or a square angle.
This style of window can cause problems for blinds because of the gaps that can be left at each side – especially if the blinds need to be positioned to miss window handles. As you can see in this installation we have had special batons made and painted at the same time as the shutters are made that closes the gap neatly to the wall.
This shutter also has our hidden tilt rod option, where the louvres are linked by a special track that is enclosed within the door frame. We had this one made so that the top few louvres can be operated separately to the bottom. This gave our customer the option to close the bottom section for privacy, but leave the top open to let the light flood in.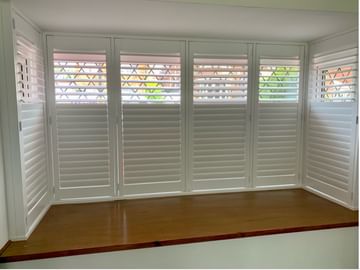 A Bow Bay
A bow or curved bay is a window that normally has even sizes panels and equal angles where the panels meet.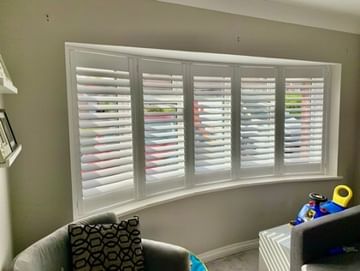 Curtains can struggle here because they are either fitted outside of the bay, that can result in losing the bay when they are drawn, or they can be fitted around the bay which can mean they cover the two outer windows when they are drawn back.
The above window had the shutters made to match the angle of the bay, and had closure strips made and painted to finish the shutters correctly at the walls. This also has our hidden tilt rod option with a split to give great privacy options.
Full Height Traditional Style
This is another bow or curved style window, but with a more traditional style of shutter fitted.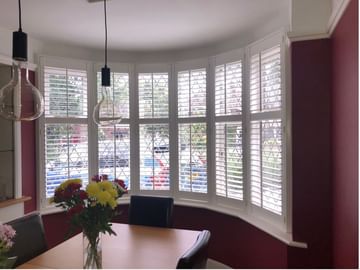 This installation has centre tilt rods rather than hidden, and because the window is tall we have added mid-rails that match the horizontal rail in the window frame. This allows the customer to angle the top and bottom louvres to suit the privacy needs.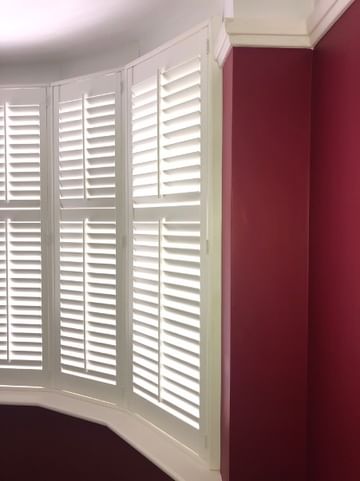 Again, closure batons were manufactured and painted to ensure the shutters finish neatly at the wall.
Café Style 135 degree bay.
Café style is a window treatment that only covers the bottom section of the window, and originated in cafes where the owners wanted passing customer to be able to see into their establishments but offer privacy for anyone seated and dining.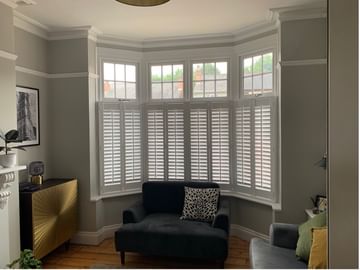 This is a great option for tall windows in living areas where privacy from the road is important, but so is light into the room. We wouldn't however recommend this for a bedroom or bathroom as light and privacy cannot be controlled fully.
The above is a great looking shutter installation fitted with central tilt rods.
Tier on Tier shutters have separate doors at the top and the bottom, and can offer the ultimate in light control. You can not only tilt the louvres differently to adjust light and privacy, but you can also open and close the panels independently too.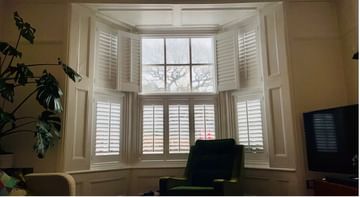 These look very stylish and are great in photographs, but there are a few things to consider if you are looking at Tier on Tier.
The first is how often you will have them opened at different times. Mid-rails offer a very similar option in terms of louvre control and, having taller doors does offer more strength.
Also you do lose a lot of light with tier on tier where the shutters meet. If, like in the picture above, you have a big divide in the window then this is no issue. But, if the window has a smaller divider rail then the top and bottom shutter meeting can exclude a lot of light.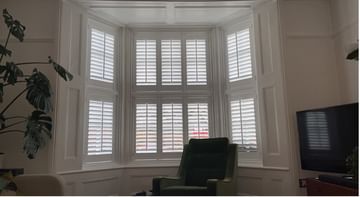 Measuring and installing bay window shutters.
Our fitters get a lot of praise for the lovely jobs that they do - and rightfully so as they are amazing. But a lot of credit should also go to our surveyors, who take all of the critical sizes required to get the shutters to fit beautifully and look fantastic.
We use laser level to check the sill, ceiling and sides are straight. If they are not, we can make allowances or order special batons to get around any issues. We then use special angle measure and laser distance devices to measure and design the shutters in our special software system. These details are then sent to the factory who produce a CAD drawing for us to approve, and then the shutters go into manufacture.
Once they arrive with us we send our own team of installers to your home to fit the shutters. They are equipped with special drill, saws and fixings needed to fit the products, and are fully trained. All shutters are installed with a small tolerance gap, and if the walls, ceiling or sills are not straight then gaps could appear here too. Any small gap is filled using a special acrylic filler for a lovely smooth, paintable finish. Any larger gaps will have special colour matched infill strips added to finish the job to perfection.
We have an even bigger selection in out showrooms.
Speak to our experts about bringing your ideas to life