Our Guide On How To Clean Shutters
Shutters add a classic look to your space and are a great option for most windows. In order to keep them in top shape, we have provided a little guide and top tips to help you effectively clean your shutters.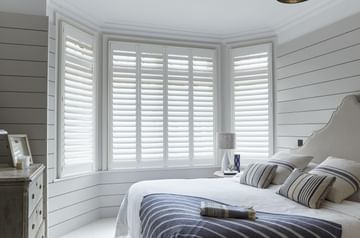 You'll want to make sure your gorgeous new shutters remain in good shape at your window after you've placed them. Our most recent article discusses some of the methods to help clean your hardwood shutters, faux wood shutters, or MDF shutters.
The best way to clean wooden plantation shutters
Take a dry microfibre cloth or duster and run along the slats to remove dust.
Just tilt your laths openly and wipe each layer from the middle to the external borders. Or, readjust your latches' closed state, wipe the slats, and frame them in a clean towel if time is short.
Use a clean, soft toothbrush to remove any built-up debris in the corners.
In frames edges as well as slat' tips, dust may be collected. Squeeze the tooth softly, then wipe it clean using a clean, dry toothbrush as well as a dry towel.
Use a damp cloth on any other marks or stains.
Rub a moist cloth softly over adhesive or persistent stains that won't come out using a dry cloth until after the stain dissolves. Rubbing too hard or using cleaning chemicals on your shutters might damage the paint or finish. Wipe away the excess wetness with a clean, dry towel once the discolouration has been removed.
Wipe away the liquid with another dry cleaning cloth.
Allowing the liquid to settle on the surface might cause water streaks and stains. Wring the fabric almost dry after soaking it in a 50/50 mix of water and white vinegar with a splash of mild dish soap. Pay close attention to the joints and edges of the louvres for dirt accumulation. To get into cracks and crevices, use an old toothbrush.
Furthermore, clean off outside shutters at least once a month to avoid dirt accumulation and keep your shutters looking good. However, cleaning them more frequently in areas with severe weather is strongly suggested to help protect materials like vinyl and painted finishes.
Cleaning shutters with a vacuum cleaner
Take your vacuum for a brief splash. Use the brush fixing and run the hoover pad over your shutter's laths and seams. The vacuum must instantly collect any dust and let your shutters glance at the tip. Remember, don't push too hard because the slats might harm you. Ensure the area surrounding the shutters is vacuumed so that the dust has not accumulated on the sill or floor close to the window.
Preventing the build-up of dust
Once you have cleaned, wiped or drained your shutters, you may decrease the amount of dust that settles on them by running over the laths with the dryer sheet. The dryer sheet static must function as a barrier to minimise the big dust or dirt building up. You will still need to dust it periodically.
How to clean aluminium roller shutters
The roller shutter offers various advantages to ensure that you and your family are comfortable and secure. Roller shutters are maintenance-effective and require very little care. But frequent maintenance is necessary to guarantee that all roller shutters are kept operating in the best possible shape.
With your soft cloth or chamois, mild detergent and clean water, give your roller shutters a gentle wipe down.
This will assist with the removal of any impurities or abrasive dirt particles that have accumulated between the slats and on the guides.
Spray your closed shutters with the mild detergent and use your soft brush or cloth to wipe the shutters in an up and down motion gently.
You have to make sure that your movement is up and down so that each layer does not falter. You could have operational problems if the lathes are misaligned.
Rinse the shutters with clean water and dry with a soft cloth or chamois.
Ensure that the layers do not get misplaced using a gentle up and down motion.
Finally, you will need to clean between the guides.
To do so, lift the curtain until it is entirely open. Clean any debris or particles from the inner guide with a soft bristles brush. Take care not to disturb the wool pile while doing so. You may also cleanse the guides with a hose and gently running water if desired. Make sure that the water pressure is not that high. Before shutting the curtains, let the guides dry thoroughly.
How to clean vinyl plantation shutters
Keep in mind that plantation shutters are simple to clean and demand little upkeep. Using a vacuum, eliminate dirt and dust on a regular schedule. Clean up your shutters using white vinegar if they're very filthy. Here, mainly wooden shutters, avoid using excessive amounts of liquid cleansers. Liquid cleansers have the potential to inflict harm over time. To avoid slats becoming misaligned, dry with a moderate up and down motion.
On plantation shutters, dust may be removed with a duster. Any visible dirt on the shutters may be dusted away with a small feather duster. To remove any built-up dust, sweep the duster between every blind, striking the tops and bottoms.
Use your vacuum to clear dust more completely. Connect your vacuum cleaner's upholstery adapter. To eliminate any trapped dirt, swipe the brush attachment over the shutters.
It is wise to vacuum the area surrounding your shutters since dust from the cleaning procedure can fall on your carpet or floor. Clean your shutters with a dryer sheet. Dryer sheets aid in the prevention of dust adhesion to surfaces.
Take a drier sheet once you've dusted your shutters. It's a good idea to go over each blind with it. This will result in reduced dust accumulation in the future, reducing cleaning time.
Keep your shutters clean by dusting them regularly. Make it a weekly ritual to dust your shutters. Using liquid-based cleansers is reduced when unwanted dust is routinely removed. These shutters must be exposed to as little moisture as possible, not only water.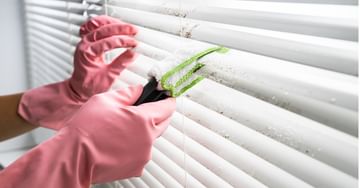 "Avoiding Common Mistakes"
Refrain from using water.
Water should not be used to cleanse shutters since they are often composed of wood. The shutters often require a little dusting regularly. Don't ever use water for cleaning on your shutters since it might damage the wood and cause it to distort or become discoloured.
Limit your use of liquid cleaners.
In general, keep your shutters clean by simply dusting them. Liquid cleaners, including vinegar, can only be used if the shutters are filthy. The fewer liquids that plantation shutters are exposed to, the better. Even if you're using a liquid cleaning, only use a tiny quantity. Before applying liquid cleansers to the shutters, make sure socks and rags are just slightly moist.
Can I use vinegar to clean shutters?
Cleaning the roller shutters with vinegar, as well as high pH solutions, is not recommended. You may wind up damaging the shutter.
How do you maintain roller shutters?
You may be pleased with the roller shutters that have been put in your home. They shield you from the outside sounds and the elements (wind, rain, etc.) More significantly, they safeguard you from fire and intruders. They are well-fitting around your windows and run smoothly. Are they, however, clean? Is it true that they are well-maintained? If not, you must take steps to cleanse and maintain your shutters to ensure they last as long as possible. Keep a close eye on the roller shutters on a consistent schedule, so you realise when they need to be cleaned. The benefit of roller shutters is that they have a low maintenance cost.
Steps for cleaning and maintaining your roller shutter windows:
Step 1: To clean them, use a soft clean cloth dipped in a mild soap solution to wipe off the roller shutters. To cleanse the problematic places, use a slender brush. Every three months, this cleaning procedure must be carried out. If you live near the shore, you must do the following at least once a month. This procedure will clean the roller shutters of just about any dirt, dust, or salt accumulated over time. Based on the surrounding circumstances, the shutters may have developed a coating of corrosive substance. Use a soap solution that has a low pH level to get rid of them.
Step 2: Clean the area with clear water after wiping it down with a soap solution. It would help if you dried this with a gentle absorbent towel after rinsing it with clean water.
Step 3: Once it has completely dried, you may add auto wax to it. This will give the roller shutters a more lustrous appearance and will also improve the colour. The vehicle wax can be sprayed or applied manually. However, before using the wax, ensure that any acidic residues on the roller shutter's surface have been removed.
Step 4:Clean the rails after wiping the roller shutter. Cleaning the rails is more important than cleaning the shutter. Sweep out the leaves but also organic stuff that has accumulated in the track. If necessary, lubricate the tracks too. Use silicone spray to create a slick surface and aid in the right sliding of the roller shutters.
Step 5: Continue to check for any animals that may become entangled in the roller curtain as it is being opened or closed. Examine the curtain straps for any little critters stuck in them and eliminate them if you discover any. When you stop them, disinfect the area thoroughly. Once every week, conduct a similar inspection.
Step 6: Inspect the roller shutters once a month for any balancing difficulties or issues. Examine for just about any imbalance in the roller shutter with a professional expert. Check to see if the expert you're hiring is licenced and insured. The roller shutter must be able to glide down and up seamlessly. If it isn't, this is out of balance and has to be adjusted.
Step 7: Lubricate the bearings that assist the shutter in rolling up and down once every six months. Grease may be applied to bearing to help them work and run more smoothly. Remove the screws and also the hood covering before lubricating the bearing. The hood covers can be fitted again to the same place and re-installed. Also, don't use sprays made with silicone to lubricate the covers. That's because silicon breaks the surface of the plastic components. Use a light oil, oil grate and lithium grate either.
Step 8: Inspect the springs regularly. The spring must be re-tensioned if you have trouble pulling the roller shutter window down. This should also be done if the shutter has become unduly heavy.
Don'ts in cleaning the roller shutters:
Make sure that you don't perform the following to guarantee the excellent durability of roller shutters.
Avoid the use of abrasive cleaners, and this includes racers, scrappers, spirits,
Do not clean the area or the tracks with any solvents.
Spraying anything on the roller shutter windows should not be done using high-pressure systems. The reason behind this is that the high-pressure spray destroys the paint.
Never spray water in the region or the container of the mechanism. This can cause the roller shutter to be faulty.
Follow the instructions above, and be sure to clean your roller shutter windows thoroughly. The shutters have shielded you from unwelcome noise, inclement weather, and criminals. At the very least, you must look after those shutters and keep an eye on them for any problems. Hire a reputable firm to clean and maintain your vehicle.
How do you clean oxidation off shutters?
There are numerous ways to clean oxidised vinyl siding, even yourself, or hire a business to wash pressures. Here is what you must do if you choose a more DIY approach:
Check for Oxidation signs: On darker-coloured vinyl facing, you can readily detect the white calcareous material. You may examine the shutters for oxidation by rubbing a finger over the vinyl side if you have a pastel or light coloured vinyl sidebar.
Prepare the solution for your cleaning: For eliminating vinyl-siding oxidations, standard components or items in the home, like vinegar, dish-sap and bleach, may be employed. To produce a solution for vinegar cleaning: combine five vinegar cups with 1 gallon of water. Mix 1/3 cup of washing machine, 2/3 cup domestic cleaning, 4 cups of domestic blueberry and 1 gallon of water to obtain a solid bleach-based solution. Finally, in a plastic spray bottle, add the cleaning blend.
Rinse Vinyl Siding: Use your vinyl siding with a garden shaft. It is used to soften impurities that can gather dirt, grime, mould or other pollutants on the vinyl facing.
Wear Protective Gear: Before working with oxidised or faded vinyl siding, always ensure that you use protective glasses and gloves. Wearing clothing to restrict exposure to the skin should also be applied. PVC can produce organic fluids that can irritate the skin and eyes. Also, be careful if the ladder is used. During this period, you won't want to hurt yourself.
Apply Cleaning Solution to Vinyl Siding: The next step is to apply the solution to your vinyl siding. When applying, make sure to do it in small amounts. This helps in ensuring that it does not dry out quickly. You must also use a soft brush.
Rinse Cleaning Solution: Finally, to cleanse the solution, you may use a garden hose. You need to ensure that the water can properly flow down to remove all the debris; this helps avoid streaking. After that, make sure the siding dries completely.
How do you restore colour to faded vinyl shutters?
Outdoor factors may wreak havoc on vinyl shutters, causing them to discolour and deteriorate. Must you restore your shutters, or can you repair them? Here are some tips to assist you in restoring faded vinyl shutters. Any substance that is exposed to the light for an extended length of time will oxidise. This makes the shutter dry, drab and gloopy, and the oxidation may happen pretty quickly, based on your region as well as the quality of a shutter. Is it possible to save your shutters?
Light Oxidation: It is possible that your shutters can be refurbished in an almost new state. Several types of vinyl restore solutions are on the market; spray it, clean it with a soft towel, and your shutters will appear (nearly) as new. They also provide UV protection for the shutters, which will safeguard you for a long time from the weather.
Heavy Oxidation: You can do little in re-habilitating them if your shutters are faded and have a gravely stitched surface. A product for vinyl restore somewhat improves their appearance but does not make a substantial impact. New vinyl shutters are incredibly inexpensive; therefore, the best way to recover them is to maintain your new blinds with an excellent vinyl protector to increase their beauty and longevity.
Come Visit Our Showrooms
The best way for us to show off all of our products is to give them to you. Come and check out one of our showrooms in Birmingham, Banbury, Sutton Coldfield, Newbury and Oxford. If you're interested in seeing our collection of blinds, curtains, shutters, and markilux awnings.
We have an even bigger selection in out showrooms.
Speak to our experts about bringing your ideas to life