Markilux 1600/1650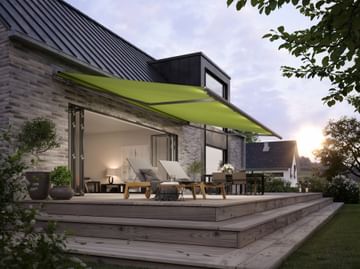 A super, feature packed awning from Markilux that looks as fresh as the day it was launched.
The Markilux 1600 (or 1650 if fitted with lights) is one of our favourite awnings. It looked out of this world when it was launched with the clamshell shape that opens up to allow the fabric to pay out. Then add to that the options of lighting built in to the front profile, to add a Shadeplus, and the ability to span up to 7m in width and project 4m out - the 1600/1650 really has it all!
The Markilux 1600/1650 is called a multi fix awning. This means that unlike many shade which rely on two brackets - one at each end, the Markilux 1600/1650 has brackets fitted along its length making it incredibly strong and capable of shading large areas.
The stylish cover for the fabric roll keep it away from rain and wind when not in use, and all of the aluminium components can be powder coated in 6 standard shades. Or for real exclusivity you can use our custom service where we will paint the awning any colour you want!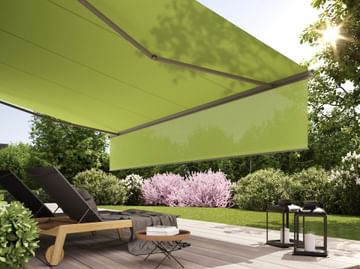 Add an electrically operated Shadeplus to your awning. Drop it lower when the sun sets, or raise it up when the sun is high to enjoy the view.
The Markilux 1600/1650 is electrically operated as standard. You can add our Safety Pack 1 or 2 to your awning. Pack 1 adds a special wind sensor that retracts the blind is the wind level gets to a point where damage may occur. Pack 2 includes the wind sensor but also adds a special manual override feature that allows you to retract your awning by hand if the power ever fails.
Add lighting or an electric Shadeplus - that can drop auto 2.1m - to your 1600 awning, and these features will also be taken care of by the same remote control.
All Markilux awnings come with a 5 year warranty when installed by a Markilux approved installer. Reynolds are approved and have been exclusively fitting Markilux products for over 10 years.
To learn more about the Markilux 1600 awning, click here to download our brochure, or click here for the 1650 brochure with lighting - we are sure you love the product! Once you do, give us a call or click below and we will arrange for one of our advisers to visit your home to see which Markilux awning will suit your home, your needs and your budget.
The Markilux 1650 awning from Reynolds Blinds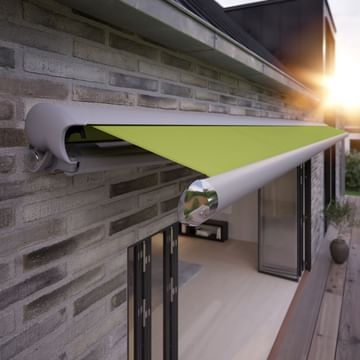 Explore the Markilux 1600/1650 from Markilux
The feature packed large awning from Markilux
We have an even bigger selection in out showrooms.
Speak to our experts about bringing your ideas to life