How Much Are Vertical Blinds?
The cost of a vertical blinds from Reynolds Blinds can depend upon a great number of factors.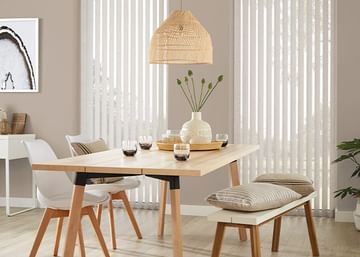 Our made-to-measure vertical blinds start from as little as £30 from our basic starter range and end at over £1000 for a huge, electrically operated blind in the highest grade materials. But typical windows are shown below with guide prices for you, and rest assured that buying from Reynolds Blinds directly means cutting out the middleman to ensure you get the best price on the best window shades.
We also offer our special Multi-Buy discount, where if we are fitting your blinds the more you order the more discount you get. We save money if we are fitting additional blinds at the same time, so we pass these savings on to you.
Not all blinds are made equal
Vertical blinds online all look the same, but a vertical blind has so many component parts that make a difference between a poor blind and a fantastic Reynolds Blind
A vertical blind could be made of the best fabric, but if they are hung on a poor-quality track then the blind will be a poor one.
At Reynolds, we use aluminium for our tracks. It is much stronger than the folded steel that many companies use. All of the plastics that are used in Reynolds Blinds contain a special UV stabiliser. This is especially important in a product that lives in the sun, as it stops the plastics from going brittle or powdering prematurely. You will be so surprised how many companies sell sun blinds that don't have UV stabilisers in the plastics – this is not acceptable to us.
Both the plastics and the tracks are available in 5 trend colours. Once you have seen how a dark-coloured blind clashes with a white rail, you'll understand why having matching or co-ordinating tracks is so important.
Many companies exclusively offer traditional cord and chain operation. We offer this too but also offer wand operation and electric operation.
Wand operation is very convenient and child safe by design. The wand – that is colour matched to the track – is used to pull the louvres back and forth, and twisting it opens and closes the strips.
Our electrically operated vertical blinds are a type of window covering that uses a motor to control the movement of the blinds. Unlike traditional manual vertical blinds, electrically operated vertical blinds can be controlled with a remote or a switch, allowing you to easily adjust the position of the blinds at the touch of a button. You can also operate these using your smartphone, giving the option to open and close the blinds at set times. This helps keep in heat at night and protects furniture and flooring during the day.
Often websites boast of offering 100's of colours – at Reynolds, we offer thousand! And although our range is huge, we are super careful about where we source our fabrics from. There are huge differences in the quality of fabrics that roller blinds can be made from – differences that are often not apparent at first glance.
Much of our range is made in the UK, meaning we have full tractability of quality and delivery. We know from our experience with these suppliers that their fabrics perform and look great for many years.
We have the chain option along the bottom of the fabric in a range of colours, but our popular finish is encapsulated weights. This sealed the louvre weight into the bottom of the fabric making it neat and removing the need for the chain at the bottom.
It is possible to fit blinds yourself, but it can be a challenging task, particularly if you are not familiar with DIY projects. The process of fitting blinds will vary depending on the type of blinds you are installing, as well as the type of window or door they will be fitted to. You will save money if you measure and fit yourself – the saving that we make by not fitting them is passed on to you. But with that said, for a small premium we will visit your home bringing samples and our expert surveying service.
Our service includes our surveyor visiting you to measure and advise on products and colours. Then our expert, directly employed and fully insured installation team will then return with your order and install it carefully for you. This is, without doubt, our most popular service.
We have an even bigger selection in out showrooms.
Speak to our experts about bringing your ideas to life