How Much Are Roller Blinds?
The cost of a roller blind from Reynolds Blinds can depend upon a great number of factors. We explain these in this article.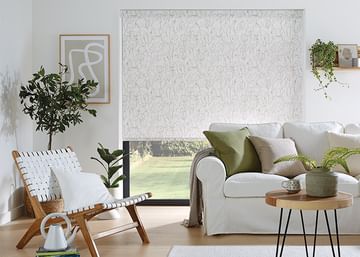 Our made-to-measure roller blinds start from as little as £20 from our basic starter range, and end at over £800 for huge, electrically operated blinds with every extra fitted that we offer. But typical windows are shown below with guide prices for you, and rest assured that buying from Reynolds Blinds directly means cutting out the middleman to ensure you get the best price on the best window shades.
We also offer our special Multi-Buy discount, where if we are fitting your blinds the more you order the more discount you get. We save money if we are fitting additional blinds at the same time, so we pass these savings on to you.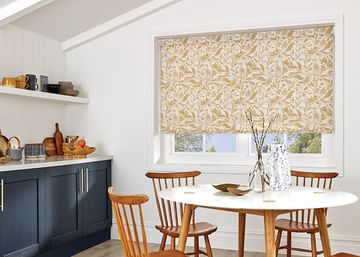 Prices for a window similar to this would start from £90 made to measure. The blind in the picture is the beautiful Folk Gold, and is fitted with our 70mm fascia to hide the mechanism. This blind would cost around £196.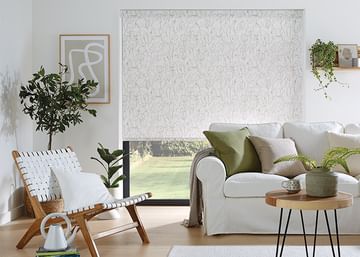 For a larger window like this, our prices would start from £150 made to measure. The blind in the picture is the delightful Sweet Pea fitted with a 70mm fascia. This blind would cost £299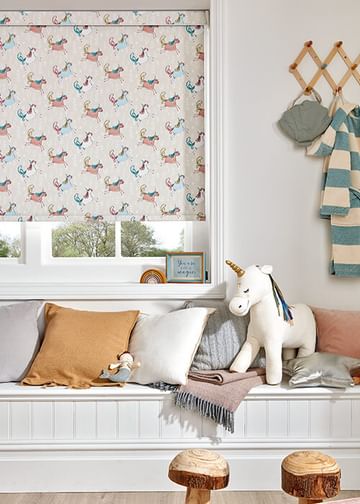 For a typical bedroom window like this, our prices would start from £68 made to measure. The lovely Unicorn blind in the picture is blockout, and fitted with our 70mm fascia. This blind would cost around £153.
Not all blinds are made equal.
From looking at a blind online, all roller blinds may appear very similar. However there are a number of features that our blinds have that will benefit you. Below is some buying advice that we hope you will find useful.
The tube or barrel that the fabric wraps around can be made from different materials. To save cost many manufacturers use steel or even cardboard tubes for their roller blinds. But this often presents problems. Both steel and cardboard are not advised for wet conditions such as a bathroom or kitchen because steel can rust and cardboard can go soggy. And for wider blinds steel can be too heavy, and cardboard can sag in the middle.

At Reynolds, we use aluminium for our tubes. It is much stronger than cardboard, and much lighter than steel. It also will not rust. We carry tubes whose diameters range from 32mm through to a huge 75mm, so wider blinds get a fatter tube to prevent sagging.
Many companies use one size of mechanism for all blinds. These are often chosen for an 'average' blind, but at Reynolds, we don't make average blinds!
We have over 7 different-sized mechanisms for different blind sizes. We use large mechanisms on larger blinds because, just like a mountain bike where the largest cog makes it easier to peddle, our larger mechanisms make large blinds easier to lift. Add to this the brackets that are made from metal rather than plastic, and the range of 6 colours to choose from, you can see that the mechanism can make all the difference between a blind and an excellent Reynolds Blind.
Often websites boast of offering 100's of colours – at Reynolds, we offer thousand! And although our range is huge, we are super careful about where we source our fabrics from. There are huge differences in the quality of fabrics that roller blinds can be made from – differences that are often not apparent at first glance.
With many of our fabrics being made here in the UK, we know the quality is right and that they will look good for years to come. We also know what features are important for you - from our blockout ranges that are ideal for bedrooms to our water-resistant choices, especially for bathrooms and kitchens. We even have anti-viral materials that help stop the spread of germs. Opt to visit our showrooms or have a home visit and our advisors will happily guide you through the options.
How you choose to operate your blind will also have an impact on costs. Our manually operated blinds offer an easy-to-use and robust mechanism. But one of our biggest growth areas recently has been our electrically operated blinds.
Powered by a built-in rechargeable battery – with a life of around 6 months between charges – they are a convenient and easy-to-use alternative to a manual blind as they can be opened and closed at the touch of a button, or from our smartphone app. The app allows blinds to blinds to open and close at set times, which can help regulate the temperature inside your home or stop damage to carpets and furniture.
If you want the best blinds and are quite handy, you can measure and fit your shades yourself. This will save you because the saving that we make by not visiting you is passed back into your pocket.
But with that said, for a small premium we will visit your home bringing samples and our expert surveying service. We will measure accurately for you and make style and practical suggestions to you about the best treatments for your windows. Our expert, directly employed and fully insured installation team will then return your order and install it carefully for you. This is, without doubt, our most popular service.
Details of the above estimates.
Sweet Pea picture costs are estimated at 2000mm wide x 2000mm drop. Folk picture is estimated at 1800mm wide x 1200mm drop. Unicorn photo is estimated at 1200mm wide x 1200mm drop. All prices exclude installation. All prices are manually operated. All prices include VAT at 20%.

We have an even bigger selection in out showrooms.
Speak to our experts about bringing your ideas to life