Online Swatch Service
Get real pieces of fabric and materials sent directly to your home to inspire you. And get a credit towards your next product order.
Measuring guides
Shopping online is very convenient, but when you are looking at colours and fabrics it often can be tricky. Textures and quality can be very difficult to judge, and colour tones are very much reliant upon the original photography and your screen resolution.
So to make sure you get exactly what you want to dress your windows perfectly, we offer our online swatch service. For a small fee to offset the cost of cutting and packing, we can send actual real pieces of the fabric that we will use directly to your home. These can then be used to match, inspire and confirm your decisions before you order.
To order samples simply find a product you like and click the 'order a sample' link at the top of the page.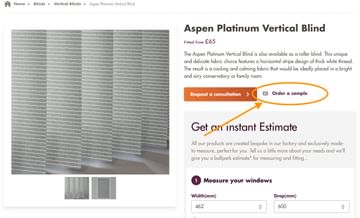 Claim back the cost of your samples
When you place your order, either online, in home or in store, we will add a credit to your next order of blinds, shutters or curtains of up £5 to cover the cost of your samples. It's just our way of saying thank you for choosing Reynolds.
*Credit cannot be used again additional samples