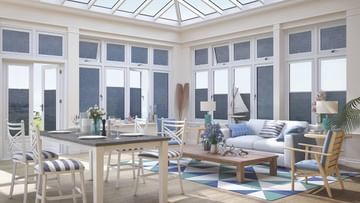 Conservatory Blinds
Making a glass house into a beautiful, shaded room suitable for use all year round
Measuring guides
We have an even bigger selection in out showrooms.
Speak to our experts about bringing your ideas to life
Without shading, your beautiful conservatory will turn into a greenhouse, even in a British summer.
Whilst this will be great for your tomato's, this means that you could be missing out on using your garden room at the most beautiful time of year.
Modern glass is very good, and the tints used can control heat to some degree. But they do very little about the glare of the sun that in many cases can be the main cause of discomfort.
High quality conservatory shades from Reynolds adds adjustable light control to your conservatory, as well as offering privacy when using the room at night. Offering style as well as function, we have a range of products that are ideally suited to the shape and style of a conservatory, and many are available with innovative features such as sun protection backing designed with this environment in mind.
On average, 70% of the heat and glare comes through the roof of a conservatory. However for privacy obviously you need to shade the side windows. But for which ever conservatory blinds you choose, every shade is made especially to fit your conservatory.
Reynolds have been manufacturing blinds for conservatories from the first day that we opened for business, and we have a huge amount of experience to draw upon. Our special computer system lets us plan your shaped conservatory blinds 'virtually' before we make them, using trigonometry to check that the blinds will work correctly before a piece of fabric is even cut.
The blinds are then fully made and tested in our factory before they leave with our expert installers to be fitted to your conservatory. And all of our roof blinds carry a full 3 year warranty for all fabrics and components, as well as workmanship.
Also check out our technical solar control blinds. Treated to a special backing which reflects heat and glare, these fabric look great from the inside but out-perform similar untreated fabrics.