The Markilux Markant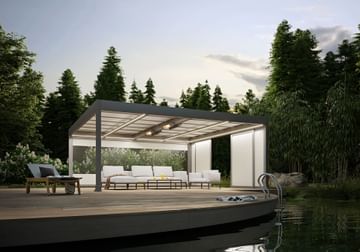 The garden room from Markilux
The Markant from Markilux is new concept in outdoor rooms. The very strong structure is modular in design, and can cover areas up to 6m x 6m in a single unit. The patented roof shade is electrically operated, and hides away when not is use. Uniquely, the roof is flat when across and the special combinations of hidden drainage let yours this even in light to moderate rain.
From there you can customise the Markant for you own needs and requirements. Add side blinds to the sides you need - offering shade, privacy or rain protection. Add lighting - the LED mood lighting is remote controlled and can be on, off or dimmable. And add heaters to allow you to use the garden room all year around.
All Markilux awnings come with a 5 year warranty when installed by a Markilux approved installer. Reynolds are approved and have been exclusively fitting Markilux products for over 10 years.
To learn more about the Markilux Markant click here to view our brochure - we are sure you love the product! Once you do, give us a call or click below and we will arrange for one of our advisers to visit your home to see which Markilux awning will suit your home, your needs and your budget.
The Markilux Markant from Reynolds Blinds
We have an even bigger selection in out showrooms.
Speak to our experts about bringing your ideas to life