Markilux Compact Pergola
Value for money shading never covered so much!
The large Markilux Pergola was such a success. the clean look and the unrivalled stability in the wind made this one of our go to large shading products.
But the 6m projection was rarely used in domestic setting, so we decided to look at a slightly smaller version that offered all of the benefits of stability that the Pergola offered, but with a domestic market friendly projection of 4m. This gave us our super, value for money, Pergola Compact.
With a width unto 4.5m and a projection of unto 4m, the Pergola Compact is perfect for most large domestic patio areas. It retains all of the fabric features of it's larger brother - the fantastic fabric tensioning system that allows it to be used in the rain, the tracks that allow the fabric to glide in and out, and the discrete support poles that support the tracks giving unrivalled wind resistance.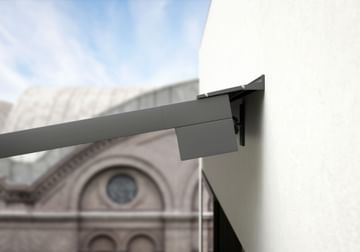 The smaller cassette still keeps the fabric due when not in use. And the case is available in 6 standard powder coat colours, or painted to your choice using our custom service.
All of the other features of the Pergola Compact matches it's big brother. Your shade will be electrically operated as standard, by the simple push of a button on your remote control. You can use it in the rain if the pitch is set correctly. But if you are struggling at achieve the pitch you can add our special adjustable leg that lowers during the rain to allow the water to run off.
You can also add a ShadePlus adjustable front shade to your blind to give you total control over your shading. And you have a huge range of fabrics to choose from to suit any garden. Plus LED lighting can be added to the head box and to the tracks, extending your use of your Pergola Compact into the night.
All Markilux awnings come with a 5 year warranty when installed by a Markilux approved installer. Reynolds are approved and have been exclusively fitting Markilux products for over 10 years.
To learn more about the Markilux Pergola Compact awning - we are sure you love the product! Once you do, give us a call or click below and we will arrange for one of our advisers to visit your home to see which Markilux awning will suit your home, your needs and your budget.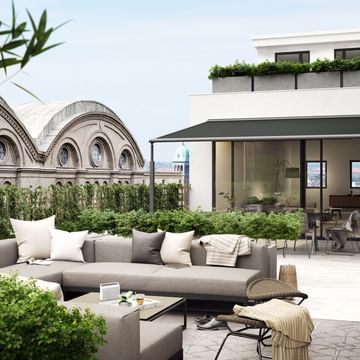 Pergola Compact from Reynolds Blinds
The great value, large patio shade
We have an even bigger selection in out showrooms.
Speak to our experts about bringing your ideas to life