Markilux 970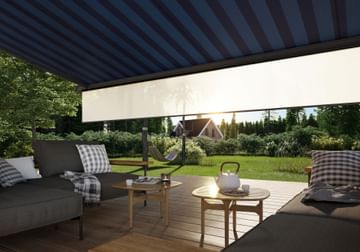 A cool looking case packed with features and technology, the 970 is an awning for the modern home.
The 970 is a fantastic awning from the newest range of Markilux products. Still included is all of the traditional Markilux values - stylish but beautifully engineered, in touch with modern trends but made to last.
The 970 has a square design to it, and nooks great either face fixed to a home, or hung underneath a balcony as the brackets are almost invisible when the blind is fitted. Standard technology includes the Markilux bionic tendon arms - which are tested to over 50,000 operations.
This awning is stronger than most, which is why we can offer it up to maximum of 6m wide, and a maximum projection of 3.5m. The case and mechanism can be powder coated in 6 different colours, or for a small fee we can have it powder coated to any colour of your choice to really make your blind a one off.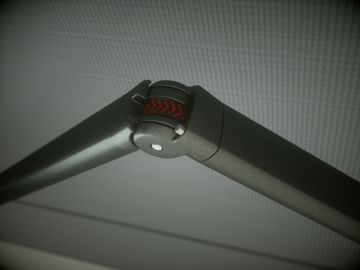 Bionic Tendon arm joints use a Kevlar belt rather than traditional chains. These are super reliable and have been tested to 50,000 operations - or the equivalent of using your awning every day for 68 years!
The 970 is electrically operated as standard. this means that you can open and close your awning at the touch of a button. Our Safety Pack 1 is available, that add a special wind señor to the awning that retracts your blind is the wind gets to a level that may damage it.
The 970 can also be fitted with lights, that are also operated by remote control. And the excellent Shapeplus adjustable front blind, that drops down up to 2.1m to give you excellent shade and privacy, is also an option for the 970.
All Markilux awnings come with a 5 year warranty when installed by a Markilux approved installer. Reynolds are approved and have been exclusively fitting Markilux products for over 10 years.
To learn more about the Markilux 970 awning, click here to download our brochure. We are sure you will love it! Once you do, give us a call or click below and we will arrange for one of our advisers to visit your home to see which Markilux awning will suit your home, your needs and your budget.
The Markilux 970 Awning from Reynolds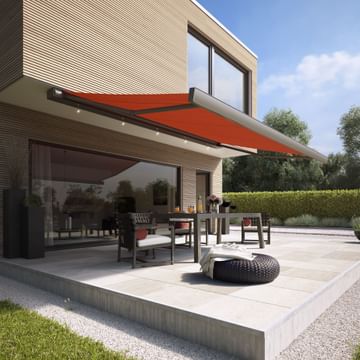 Explore the 970 Awning
The super style, feature packed awning from Reynolds
We have an even bigger selection in out showrooms.
Speak to our experts about bringing your ideas to life