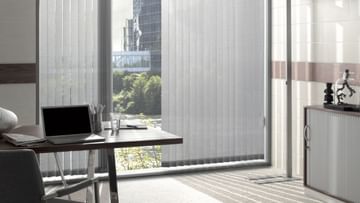 Commercial Vertical Blind Systems
The importance of effective solar shading in now getting more prominence in many aspects of the build planning process.
Measuring guides
We have an even bigger selection in out showrooms.
Speak to our experts about bringing your ideas to life
From using adjustable shading for workstations to comply with employee welfare laws, to helping new energy efficient building not to overheat in the summer, through to integrating electrically operated shades into the HVAC systems to reduce strain on AC units in the summer and then using solar gain to reduce the need for heating in the winter.
These type of projects need thinking about early in a project as the types of shading planned for can help building pass regulation. However not planning for it can cause big problems later in a project as they can be difficult to retro install at a later date.
Reynolds have access to a huge range of performance fabrics that can help many glass types achieve the Gtot values now being requested by design regulations. We also can help with BIM, advise on integration to BMS, and generally suggest solutions to meet design needs that are not only compliant but also discrete and offer good life spans in commercial environments.

Vertical blinds are fantastic when operated electrically. Our electric vertical blind offers tilt only in our slim system and tilt and draw in our wide body system.

Our tilt only slim system is a wire-free battery powered option which give around 6 months of operation per charge. Charging is as simple as charging a mobile phone. Our wide body tilt and draw motor is mains operated and simply needs a 230v power connection.
With regards to operation, we have remote control options, wall switches, operation via smartphone/tablet and integrated solutions into smart homes and smart office systems. We are more than happy to get involved at the design stage to say what wiring is needed and what shades would work well for you. In fact the earlier we are involved the better the job is likely to turn out so call us today!